Starting your first garden? Or maybe it's even your second. Or tenth. Gardening takes a lot of hard work, patience, research and learning. And just when you think you know all there is to know, you learn you don't and then you learn some more. So I wanted to share all the things I wish I knew before planting my first garden.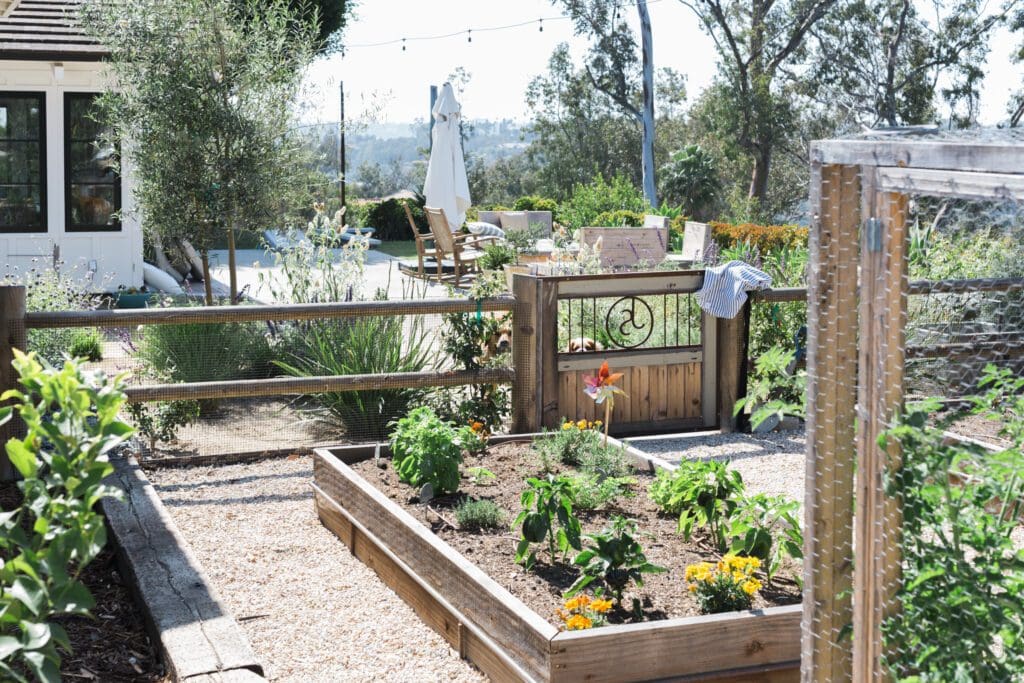 We have dabbled in gardening for over 20 years. We never really took the time to study the process. We just threw in some plants and hoped for the best. We never got anything close to the best.
In 2020 when the world went on lockdown we decided we wanted to be a little more self-sufficient. We decided on two ways to do that. We bought baby chicks for eggs and we focused on growing our own food.
If you are interested in chickens, check out our Beginners Guide to Backyard Chickens.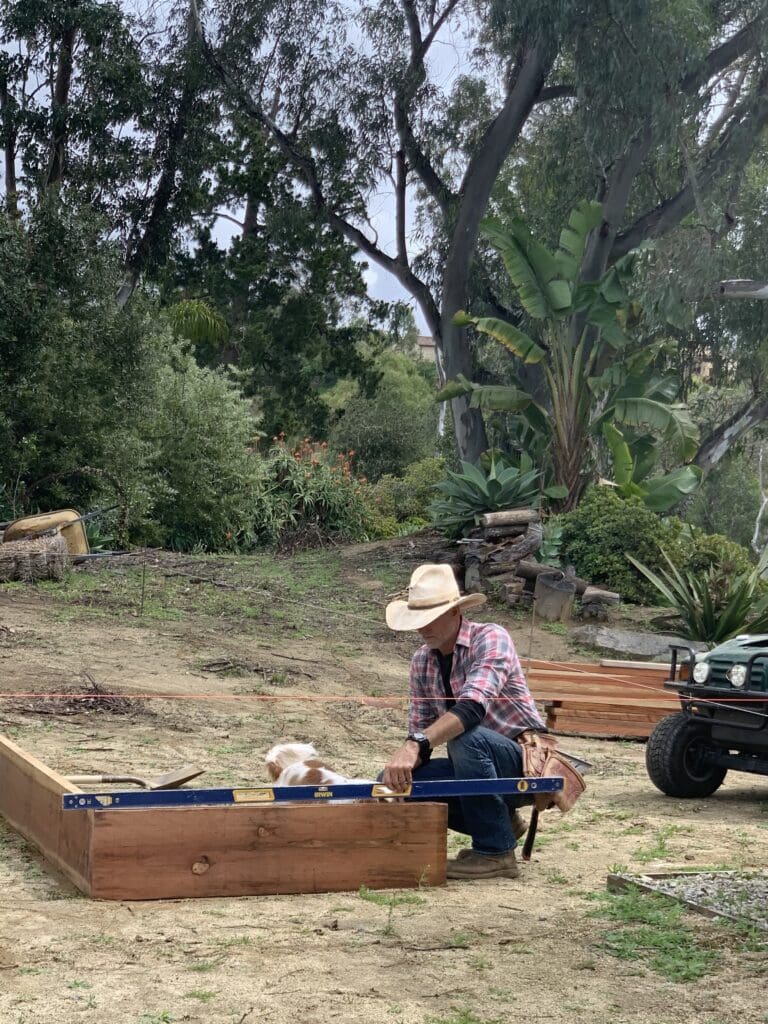 While JJ built our garden boxes, I spent countless hours studying everything I could about gardening. I watched videos, read blog posts and bought several books. I wanted to know everything. What to plant, where to plant it, what should be side by side, what shouldn't. I was overloaded with information and couldn't wait to get started. We finished the boxes, planted them with all my new knowledge and then the real learning began.
Everything I wish I Knew Before Planting My First Garden
1. You will wish you planted less.
Gardening is a lot of work and a massive learning curve. Every plant requires a little something different. The more you plant, the more you will find out how little you know. The first year you plant a garden, pick five to seven vegetables to plant.
Every crop requires different knowledge. When to plant, how much water, when to prune, when to pick the vegetables Helpful Hint: The size of produce you buy at a grocery store is not the size your garden is going to produce. You will likely need to pick everything earlier than you think)
2. You will be frustrated.
Check your perfectionism at the garden gate and allow yourself to suck at gardening. You most certainly will. Even the best gardener's suck. We are at the mercy of the elements, the critters, the overwhelming amount you need to know …
3. You will constantly be at war.
There are predators, insects and fungi and they are all out to get your garden. I was so bummed when half of what I planted was being eaten by bugs, worms, birds and (gag) rats. A wise friend said to me, you plant two plants. One for you, one for them. Still working on that. I've never been good at sharing.
Helpful Hint: Join a Facebook group with other gardeners in your area. It will be your BFF of gardening. You can take photos of attacked plants and they will help you understand what is attacking and how to attack it back.
4. Skip the seeds year one (and maybe two and three too).
First timers, start with organic plants and skip the seeds. Gardening is hard enough without the added failure of seeds not doing their thing. I am on my fourth year of this garden and I am still trying to get seeds to not suck. I've planted in the ground. In containers. In a green house. In my main house. Seeds are hard. There are a thousand variables. Don't' start with seeds unless your endgame is failure. Or you are a superhero.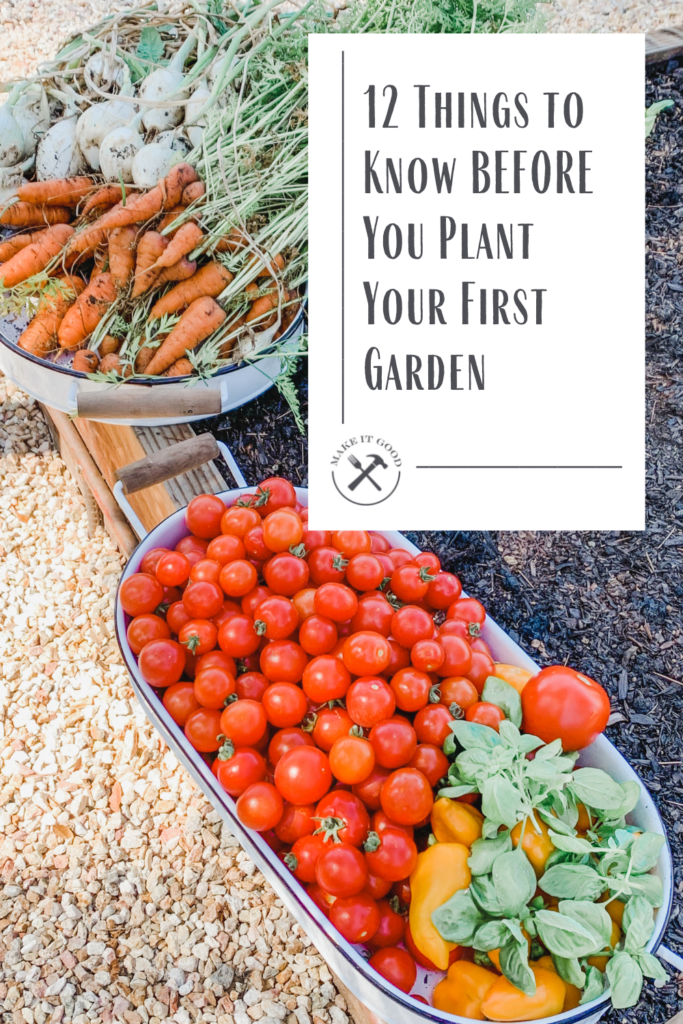 5. Choose your plants wisely.
Plant only what you will eat. Don't plant what you wish you would eat. If you aren't eating Japanese eggplant now, you aren't going to eat it just because you grew it. Don't waste your time on things you aren't excited about. It takes enough energy to grow what you ARE excited about.
6. Plant in phases.
Don't plant everything at once. Succession planting is where it's at. If you plant three tomato plants at the same time you are going to have a fork-ton of tomatoes all at the same time. Stagger your planting dates. Plant one tomato plant, wait a few weeks and plant the next.
7. Irrigation is a non-negotiable for success.
Set up an automatic irrigation system. Girl you know you aren't going to stand out there with a hose every day. AmmmIright? If you can't do it on your own, hire someone. It's worth it.
Want JJ to create a video showing you how to do it yourself? Comment below and let us know and we will make it happen if there's interest.
8. Soil, soil, soil.
Soil is EVERYTHING! The first year JJ said our ground soil (as in what we dug out of our own yard) was good enough. He was an expert on the topic. And by expert I mean knew literally less than I did. But he insisted.
After days of me repeating over and over that we should really have dirt brought in, I was tired and reluctantly gave in. I filled our brand new garden boxes with the soil, aka clay dirt, we dug up from our property. With every heavy shovel I flung into my garden box I thought, "no chance in hell is this going to work."
Thankfully, that night the skies opened up and it poured.
We went out the next morning and the soil was so dense that the boxes were half soil, half swimming pool. There was so much clay in our dirt, the water couldn't penetrate the it.
I spent the next day cursing under my breath while removing all of the soil from our garden boxes. JJ spent the next day being VERY nice to me, finding me new amazing organic mushroom soil mixed with the most incredible compost and had it delivered. It was a game changer.
I received many texts from friends that first year who were following along on Instagram saying, "What the hell is in your soil?" Not clay.
9. Fence it …
And then fence it some more. Fence in the whole garden to prevent ground predators.
Cage the tomatoes. An actual cage, not just a riser they can grow on. Check out our DIY Tomato Cage and make your own. This keeps the birds, squirrels, rats and other creatures from stealing your tomatoes.
10. Invest in good gardening tools.
Of course all the right tools, but also a fabulous hat and cute gardening boots. I wanted you to know everything I wish I knew before planting my first garden BUT you also need to have all the right tools, so I put together all my GARDENING FAVORITES for you! Click the image below to shop my favorites!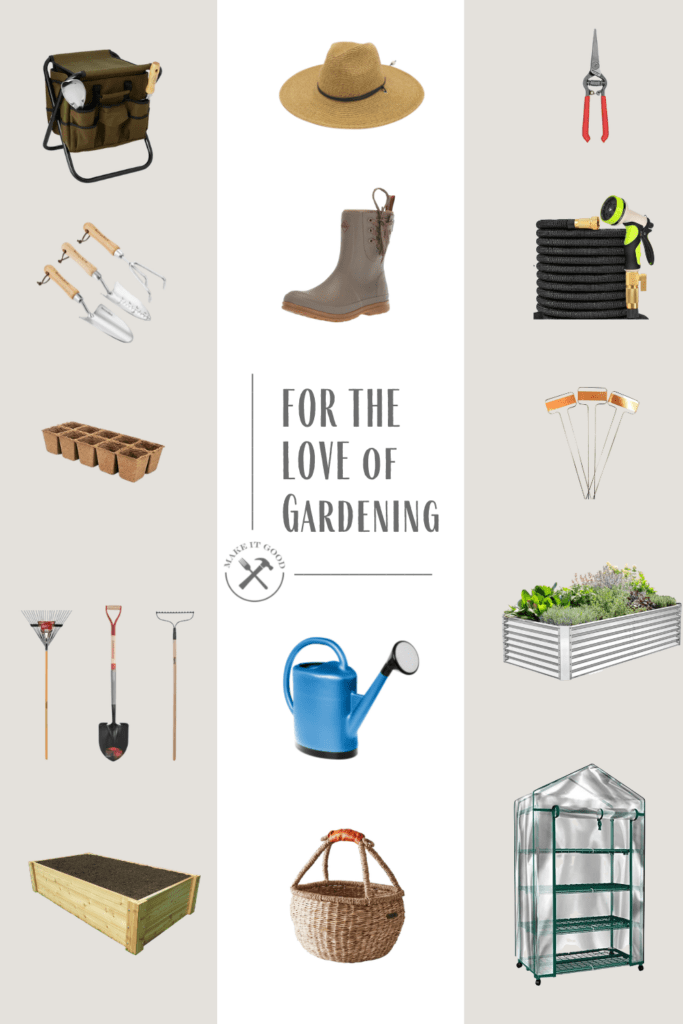 11. Do your research.
Everything you plant has a different nuance. Is it determinant or indeterminate? How long does it take to produce? When will it stop? What month should I plant it? When should I pick the vegetables or fruits?
That one is huge. If you overgrow your vegetables they aren't good. Cucumbers get bitter. Tomatoes split open. Don't use the grocery store vegetables as a guide. What you grow in your own garden will likely look different, grow smaller and need to be picked well before you think it should.
12. Use Landscape Fabric
Weeds are a NIGHTMARE and you will already be at war with everything else. Don't spend time fighting the weeds too.
Line your garden with landscape fabric. We built garden boxes (you can either make your garden boxes, or you can buy them), lined the bottom with landscape fabric and then filled the boxes with soil. I have zero weeds in my garden.
And there you have it, everything I wish I knew before planting my first garden. Have additional questions not covered in this post? Ask us below!