We have had a lot of dogs over our 27 years of raising boys. Labs were our thing for a long time. Wyatt, Daisy and Clyde. Lola was our first rescue dog. JJ loves to tell the story of how Lola entered our lives. It starts with me being a jerk and him being a martyr. Ask him sometime.
Otis is our very first small dog. I affectionately refer to him as my midlife crisis dog. I was never a small dog kind of person. In fact, I made fun of people with small dogs, ESPECIALLY when they put sweaters on them or bowties. Who does that?
But with the boys all growing up and no longer needing me, I found something that did. Otis. And just like that, I became the kind of person who puts her dogs in sweaters, bowties, coats and boots in the winter and life vests when we go kayaking. One can never be too safe.
JJ and the boys make fun of me relentlessly and I DO NOT care. They can all suck it.
Below are some of my favorite dog accessories and toys. Believe me when I tell you I had to resist the urge to make this list another 20 items long. Pssssst … if you want to know where I get the bowties and winter boots, hit me up in our DMs. It will be our little secret.
1. ROAD iD Jingle Free Peace of Mind Pet ID Tags
These are great in the morning when the dogs are up and moving but not everyone in the house is.
2. Earth Rated Dog Poop Bags, Guaranteed Leak Proof and Extra Thick Waste Bag Refill Rolls For Dog
These are my favorite poop bags. They never tear!
3. FLEXI New Classic Retractable Dog Leash
I don't let the dogs off leash when we walk the trails but I like to give them a lot of freedom wander while on the leash. This is my favorite retractable leash.
4. Kuoser Warm Dog Coat, Reversible Dog Jacket Waterproof Dog Winter Coat British Style Plaid
What? It gets cold in San Diego. Don't judge me.
I got these for Lola and Otis last year for Christmas. That's right. They love them!
6. AGSIXZLAN Snuffle Mat, Sniffling Mat, Dog Plush Carrot Toy Mat
This was Otis's Christmas present this year. I put tiny treats in under each carrot and he loses his mind. It's the cutest.
7. Esschert Design USA LH151 Slate Dog Tail Wall Hooks
JJ made a dog station and I ordered these hooks to hang the leashes and collars from. Aren't they adorable?
8. ZippyPaws Woodland Friends Burrow Interactive Dog Toys
This drives Otis nutty which is quite fun to watch.
9. The Worthy Dog Sidekick Padded Harness Tan Plaid Pattern with Secure Back Buckle
I mean shouldn't every dog have faux Burberry?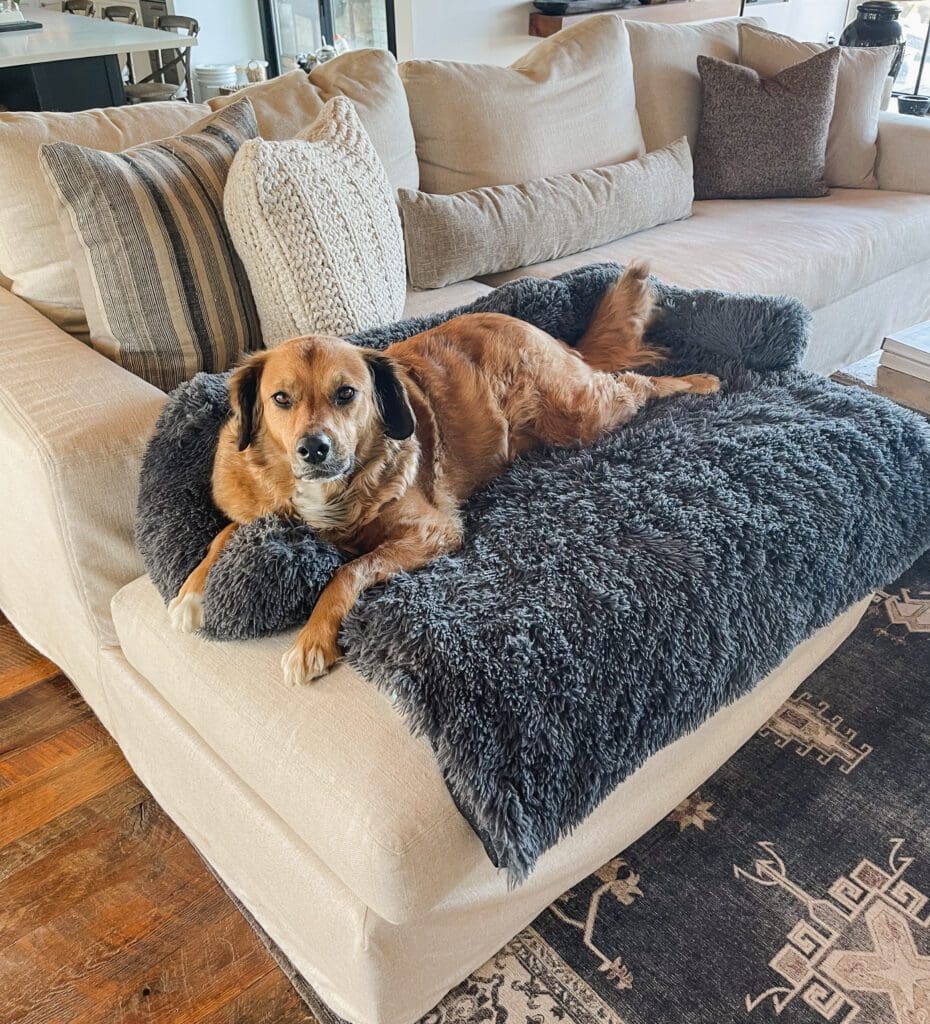 10. PetAmi Waterproof Dog Blanket for Bed
I use this on our sofa or in the car so Otis is comfortable in his dog car seat. Yes, he has a car seat. I feel your judgement.
11. Orthopedic Dog Bed for Large Dogs and Medium Dogs
This bed is super comfy and fits perfectly in the wooden box platform JJ built for it. Lola loves her bed!
12. Dog Pooper Scooper, Tray Rake, and Spade 3 Pack Poop Scoop
Backyard cleanup is slightly better with this.
13. PEGGY11 Deep Stainless Steel Anti-Slip Dog Bowls
Our outdoor water bowl.
14. MEWANG Wooden Dog Stairs/Steps – Foldable 4 Levels Pet Stairs
Otis uses these stairs to climb up on by desk. They also fold into a ramp. Small dogs like to be high but need a little help getting there.
JJ built the ones above for us, but this is similar to the one he built. If you are looking for a lesser priced option, check out our This or That section on Instagram. It's in our Favorites. Or on LTK.
16. Healthy Breeds Cavalier King Charles Spaniel Avocado Herbal Dog Shampoo 16 oz
I've tried a lot of shampoos and this one is my favorite. I love the smell and the way their fur feels after. I don't need to use a conditioner with it and it doesn't leave either dog itchy after their shower.
17. DRIPPY PETS Calming Dog Beds for Large Dogs
This was Lola's Christmas present this year and if she could talk, she would tell you it's the greatest gift we ever gave her.
P.s. we also love our chickens Mary Jane, Lawfanduh, Eleanor Roosevelt and Maleficent too. Thinking you might want to have your own egg producers? Check out our Beginners Guide to Backyard Chickens series!