I am one of those weird people who loves ALLLL the vegetables. Steam 'em, roast 'em, grill 'em. I'll eat 'em.
BUT … I have 3 boys and a husband who are normal. Getting veggies down everyone's pie hole in this house means doing a little something special.
And by special, I mean suffocating all those nutrients with butter and cheese.
Life is a balance.
This recipe will make someone in your house proclaim, "I LOVE Brussels sprouts."*
If you love this recipe, or someone in your house actually proclaims … then please share with friends! Save it for later on Pinterest so you don't forget it, share it on Instagram so everyone else can enjoy it too!
The more you share, the more support we get, the more fabulous recipes we can produce for you to enjoy! We genuinely appreciate it!
Are you a visual person? I've got you covered!
*This statement is not guaranteed, but it's probable.
Print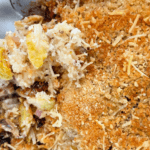 Brussels Sprouts Gratin
---
Description
This delicious Brussels sprouts dish is gratin style. That means your family might actually eat it.
---
1 pound Brussels Sprouts, trimmed and cut in quarters top to bottom
1 tablespoon shallots
4 ounces pancetta
2 tablespoons butter melted
1 tablespoon olive oil
½ cup gruyere cheese
½ cup parmesan cheese
½ cup heavy cream
½ cup bread crumbs
1 Tablespoon whole grain Dijon
---
Instructions
Preheat oven to 425. 
Combine Brussels sprouts and 2 tablespoons melted butter and whole grain dijon mustard in gratin dish. Stir to coat evenly. Roast for 12 – 15 minutes.  
While Brussels are roasting, saute pancetta and shallots in a skillet and cook over medium heat for 5-7 minutes, until lightly browned. 
Reduce heat to 375 degrees. 
Use a slotted spoon to add pancetta and shallots to Brussels sprouts. 
Take Brussels sprouts out of the oven and add pancetta and shallots, gruyere and cream. Stir to coat evenly. 
Roast another 15 minutes. 
While Brussels are roasting, in a small bowl, combine bread crumbs and parmesan. 
Remove Brussels sprouts from oven, sprinkle bread crumb mixture over top. 
Turn oven to low broil.
Broil for 5 – 8 minutes until lightly browned.
---