Beautiful Christmas table decor takes your dinner from ordinary to exceptional. A beautiful tablescape adds a little magic to your meal and makes everyone at the table feel part of something special.
I always love using my grandmothers china over the holidays. Noah, our middle son, while helping me get the china down from the upper cabinet, recently said," I don't get china. Why have dishes you only use a couple of times a year?"
At one point in time, it was the "proper" way to set a table. To know us is to know we aren't proper. What we are, though, is nostalgic.
That's what china is to me. Every time my fingers touch her silver, or I sip from her wine glasses, or I place her plate on my holiday table, I am transported back to Christmas or Thanksgiving as a child with my Mimi.
Those holidays are some of my most cherished memories. It was the only time my family gathered around a table. And, for the most part, they were trying to be on their best behavior, at least for a few hours. The events almost always ended with a door slam and tears, but isn't that what holiday family time is all about?
Tips for Table Decor That Won't Break The Bank
Your table decor doesn't have to be expensive to be special. You can use simple white plates and spruce them up with pretty cloth napkins, a twig foraged from the yard and a centerpiece of candles, greenery, and fruit.
Don't want to splurge on the dinner plates? No problem. Save money by buying the salad plates and placing them on top of your basic white plates. Instant elevation.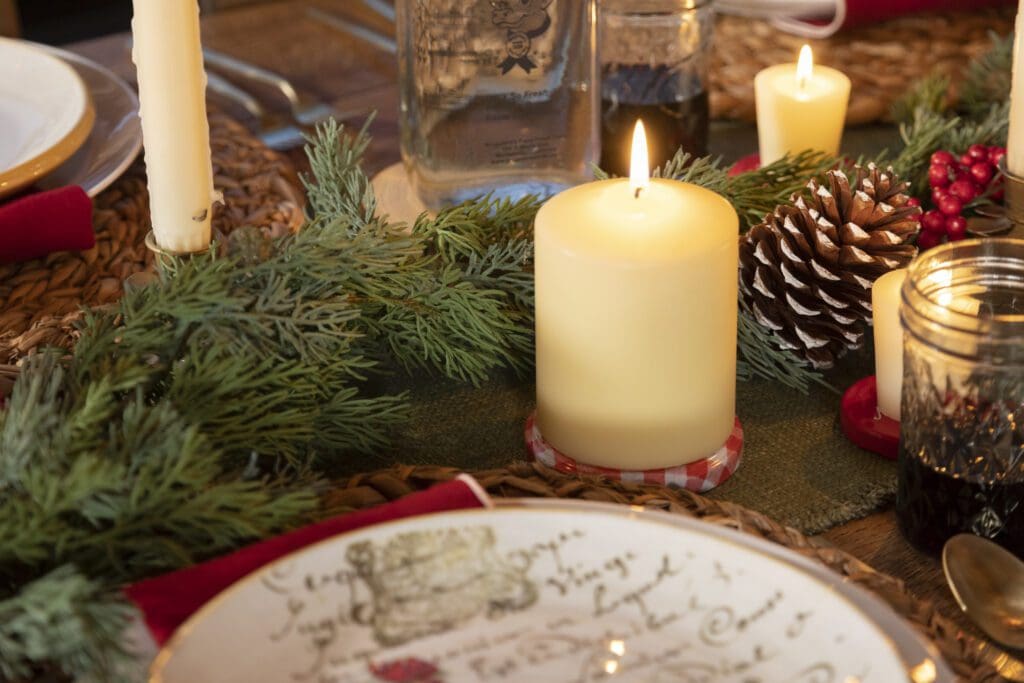 Don't have fancy candlesticks? Here's a fun tip. Use the different colored lids from the jars in your refrigerator like I did above. I save most of my glass jars from pickles, olives, mustard, and everything else. I use them all the time for homemade salad dressings and spice mixes. Use these tops during the holidays to add a pop of color and protect your table from wax. I am all about reusing and repurposing.
Below are my most favorite table settings this Christmas!
Nostalgic Christmas Table Decor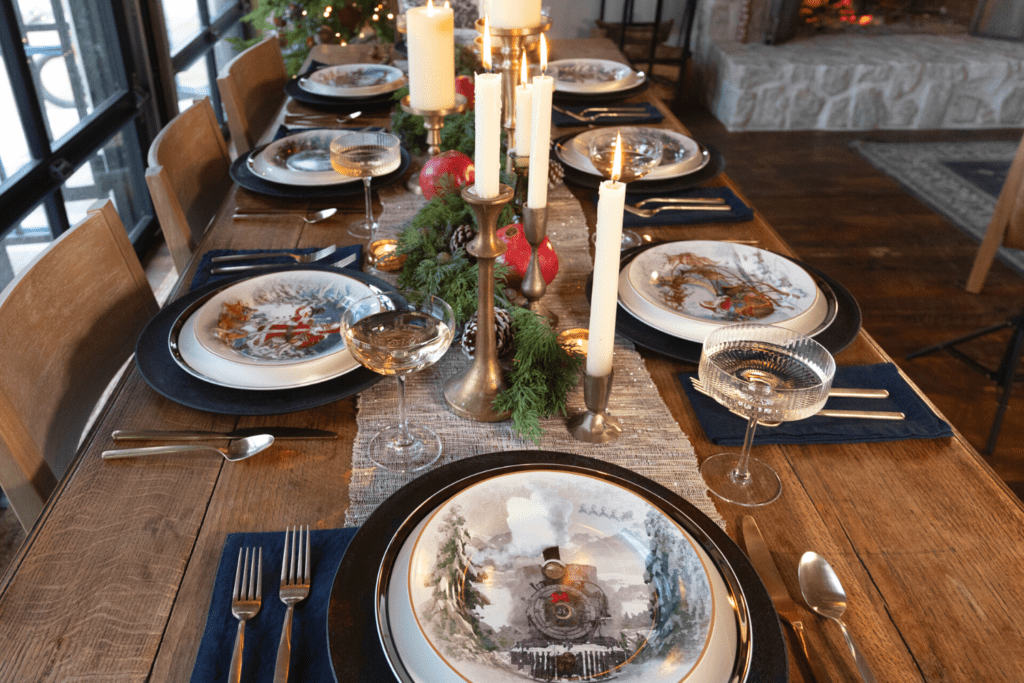 I am a lover of all things nostalgic. These salad plates from Pottery Barn make me feel like I'm in an old Christmas movie. I used black chargers and my Mimi's china to add depth and paired them with navy napkins to pull the blues out of each plate. Not a traditional Christmas color but I like to deviate from the obvious.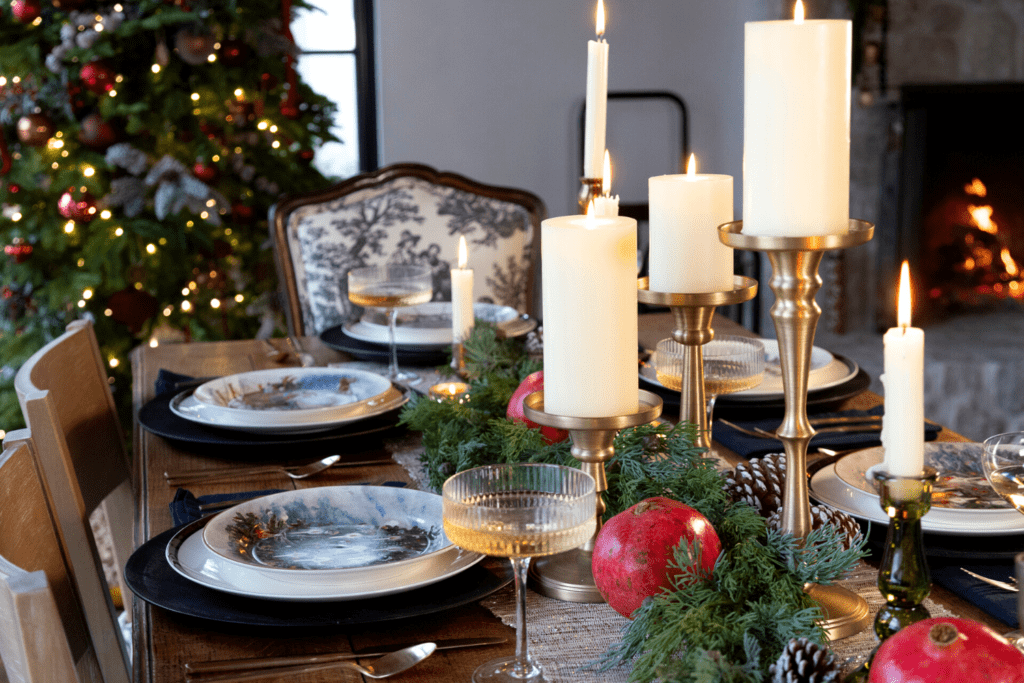 I am all for mixing metals. My china is silver-lined, the flatware is gold, and the candlesticks and pillar candle holders are brass and silver. I also used green glass candlesticks to add a different texture and color.
The centerpiece contains one long piece of thin garland, pine cones, and pomegranates.
Farmhouse Christmas Table Decor
The green and red plaid runner adds a farmhouse feel to this table setting. I used my Mimi's china to give an elevated contrast to the casualness of the runner and added these colorful ski lift salad plates from West Elm. The red napkins pop the reds from the runner, and these champagne glasses are my favorite.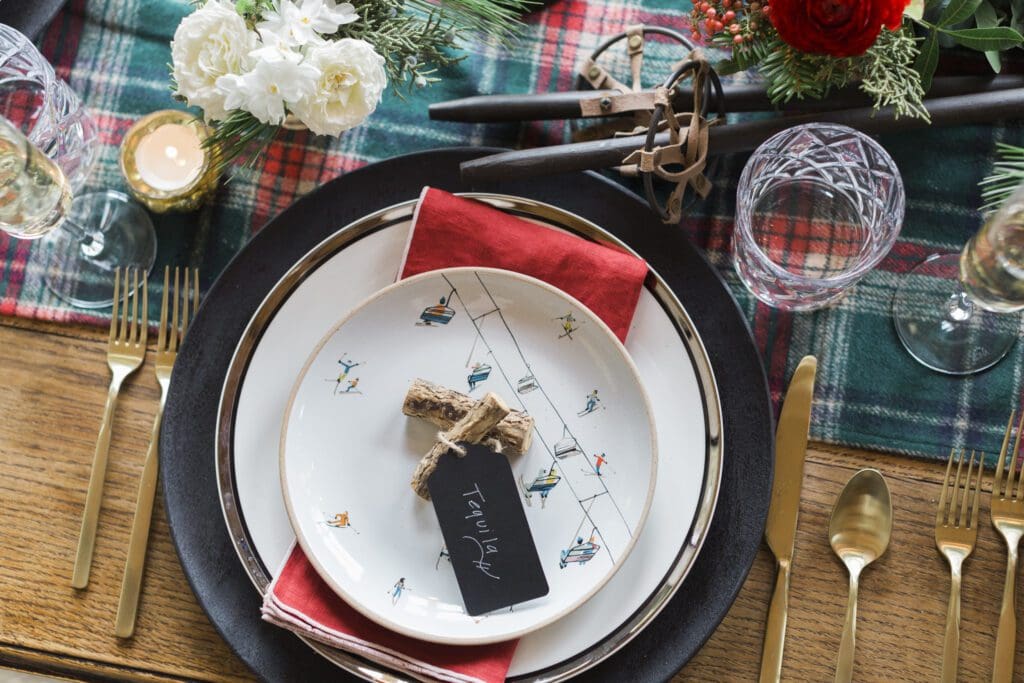 I wanted to bring an outdoorsy farmhouse feel to the plates so they weren't too fancy, so I stacked these small wood pieces and tied the name cards to them with twine. I highly recommend my favorite white fine point marker to label them!
I had these old-school ski poles and ran them down the runner's center to tie the plates and centerpiece together.
Silver and Gold Christmas Table Decor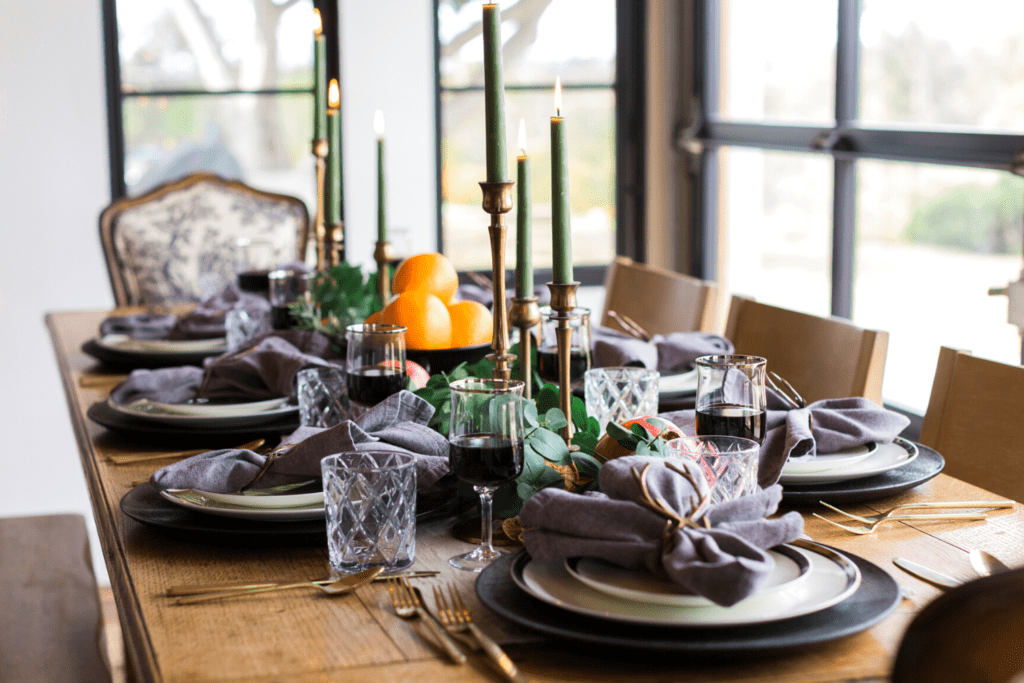 Sometimes, you want to keep it simple. Silver, gold, brass, and bronze are all players in this tablescape. I used several pieces of artificial eucalyptus down the center of the table. Green tapers that match the eucalyptus stems to keep the centerpiece quiet so that the oranges and fresh pomegranates in a black pedestal bowl are the only pop on this table.
This bowl is no longer available but Anthropologie has a similar black bowl. The gray napkins are from Pottery Barn. I found the antler napkin rings at a local boutique, but these rings from Terrain are similar.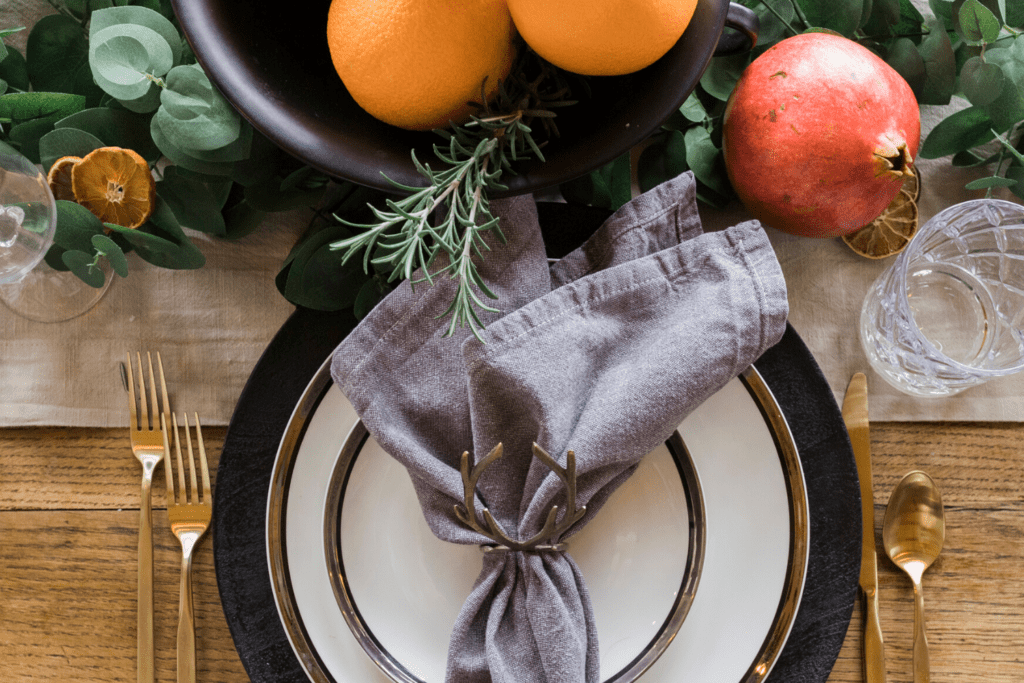 Wishing you and yours a fabulous holiday season spent around a table, laughing over old memories and creating new ones.