I have rounded up the best Christmas wreaths for 2022. They are flocked, pre-lit, unlit, stunning and there are wreaths for every budget. Get them before they sell out!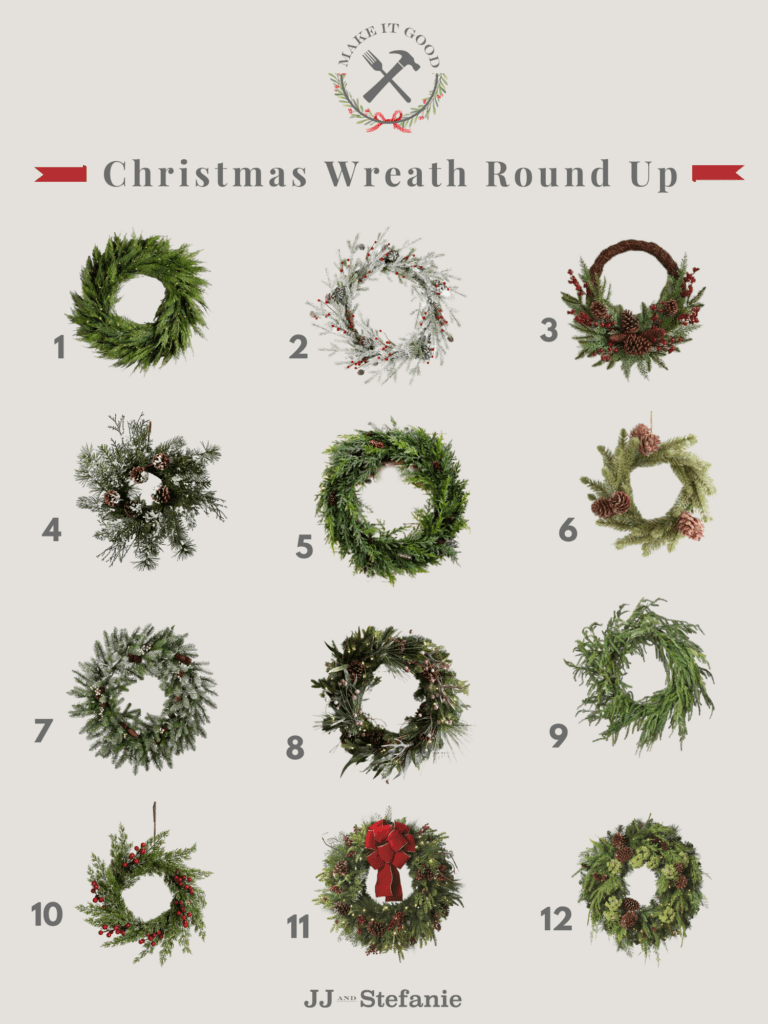 1. Faux Hemlock Pine Pre-Lit LED Wreath $139
This one is going on the chicken coop at our house this year. No electricity needed, just batteries and it's on a timer. Perfect for space you want to light up where you don't have electricity or don't want to see a cord.
2. Holiday Time Frosted Christmas Wreath $33
I am a sucker for flocked anything. Add pops of red and I'll hit the buy button! It reminds me of back home in Indiana where I loved the snow.
3. Mixed Pine & Cedar Wreath With Berries SALE $75
This beautiful wreath from Pottery Barn is one of my favorites this season. I love the "half" wreath style that has become popular the last couple of years.
4. Snowy Pine Mini Wreath $14
These are beautiful mini wreaths. I love to hang them in the window throughout my house.
5. Artificial Cedar Wreath $90
I love the look of cedar wreaths. This one is beautiful. No need to add any ribbons or bows. It's perfection in it's simplicity.
6. Mini Pinecone & Faux Pine Glittered Wreath $6
These are my favorite wreaths to hang on the backs of dining chairs. So simple. They work with all decor.
7. Faux Lighted 30" Wreath ON SALE $88
This pre-lit lightly flocked wreath is so pretty. I am crazy for the silver berries and the pinecones.
8. Pre-Lit Faux Tahoe Pine Wreath $179
Is your decor outdoorsy and woodland? This stunning pre-lit wreath was made for your front door.
9. Faux Pine 24" Wreath ON SALE $76
There is something about this wreath that reminds me of the holidays in London. It feels old and historical and I love everything about its simplicity.
10. Pine and Red Berry Mini Wreath ON SALE $14
The perfect simple green wreath with red berries.
11. Christmas Cheer Cordless Wreath with Red Bow ON SALE $69
This 24″ pre-lit wreath with a giant red and gold bow screams traditional Christmas and I am here for it.
12. Hamilton Greenery Wreath ON SALE $184
Gorgeous pre-lit green tonal wreath with pine cones.