It's the most wonderful (and chaotic) time of the year. My absolute favorite, no matter how stressful. I love the decor, the gift-giving, the baking and the parties!
When my boys were little my theme was handmade ornaments of every color and texture and I loved every single year of it.
A few years back as my older boys headed off to college and Colt headed to high school, I decided to adult it up around here. I boxed up all those handmade ornaments for my boys to one day put on their own trees and I started doing a more design-focused Christmas.
Each year I choose a theme. That first year I chose an outdoorsy theme that reminded me of Christmas with my grandmother back home in Indiana. I used a ton of red pops on ornaments and lanterns and bark-like textures with beautiful birds and animals we would see in the woods of Indy.
This year I chose illumination as my theme. There is something so calming about a dimly lit room with soft tree lights and candles. It's a reminder of simpler times. No technology, no news, no politics, no Covid. The world has felt heavy and dark over the last couple of years and I wanted our holiday decor to bring light and comfort to anyone who happened by for some holiday cheer.
I chose to use green and black as my primary colors with small pops of red this year. And as always, lots of texture and brass and gold.
My hall has seven windows and I wanted it to feel like times of old when homes would have a candle in every window. A candle in the window has two meanings. One is to remember those gone or missing and to light their way home. The other is to combat the darkness of the winter, the night and the world. I love the simplicity of this long hall and each candle and wreath.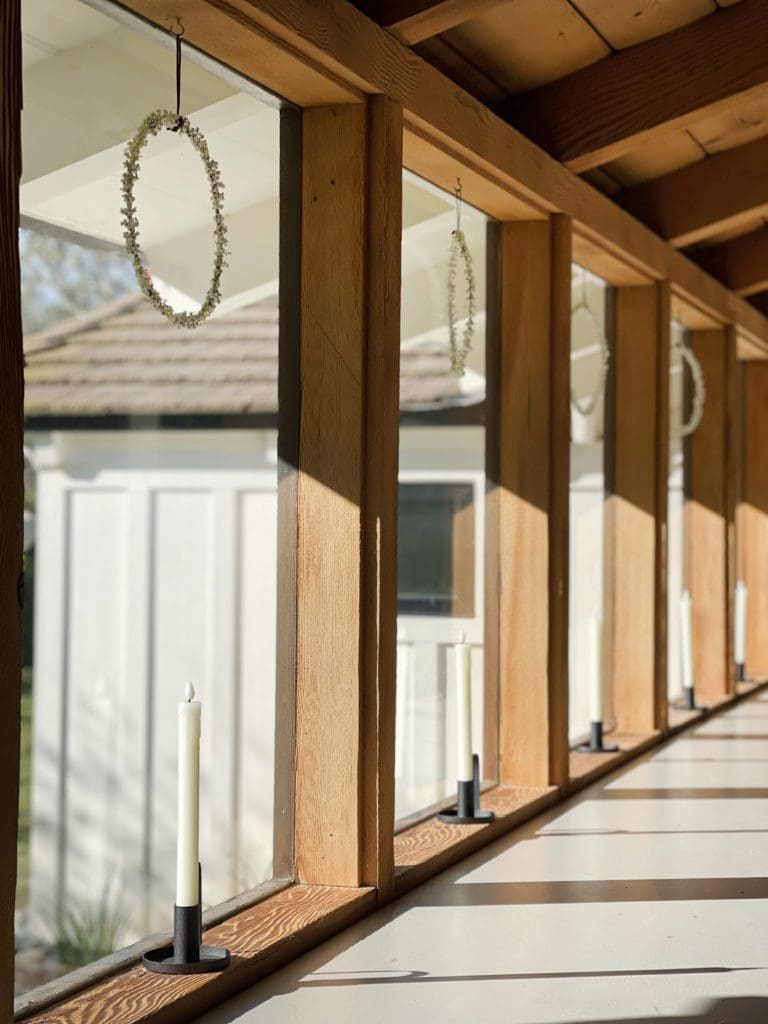 Black, green, gold and illumination continue on my mantle. These trees light up at night and give off the softest glow. I am all about simple moments. It calms my soul.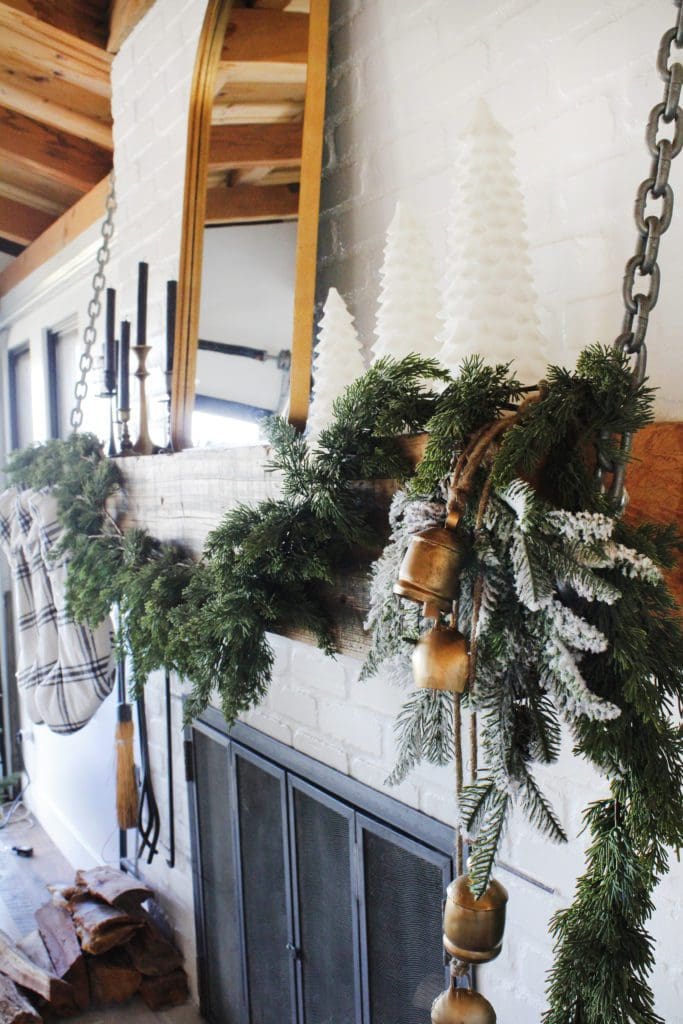 Our dining room has a ton of light with these three garage doors that lead into it, but that didn't stop me from adding candles to the decor.
With nostalgia being the main focus for me this year, I couldn't resist the urge to bake oranges and add them to my holiday decor.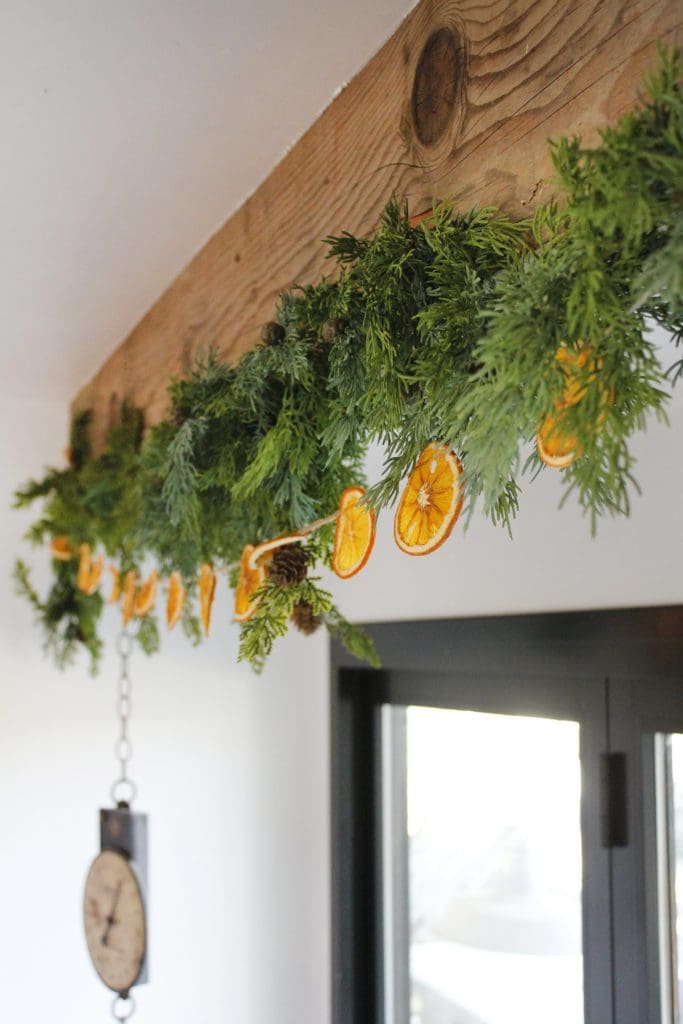 I kept seeing houses like these black ones below but they were all painted white. So I did what I always do and asked JJ to build me a couple of super rustic-looking ones so I could paint them black instead. I love how they turned out.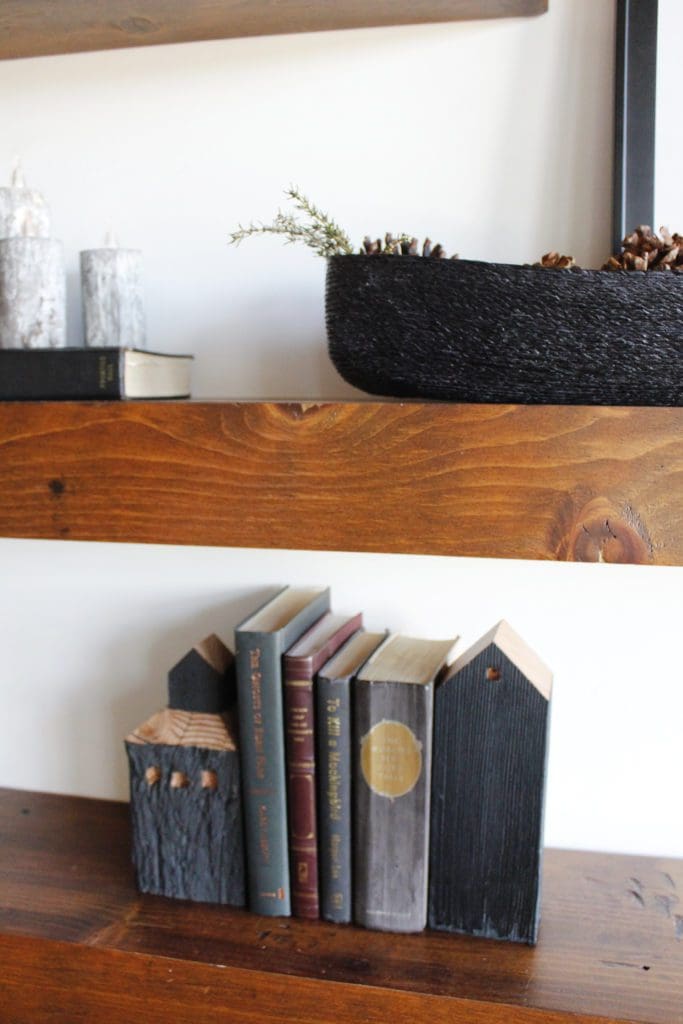 Speaking of things JJ builds, I wanted a black cutting board as the centerpiece of my island. I couldn't find one large enough so … JJ built one for me. You can check it out here on Instagram.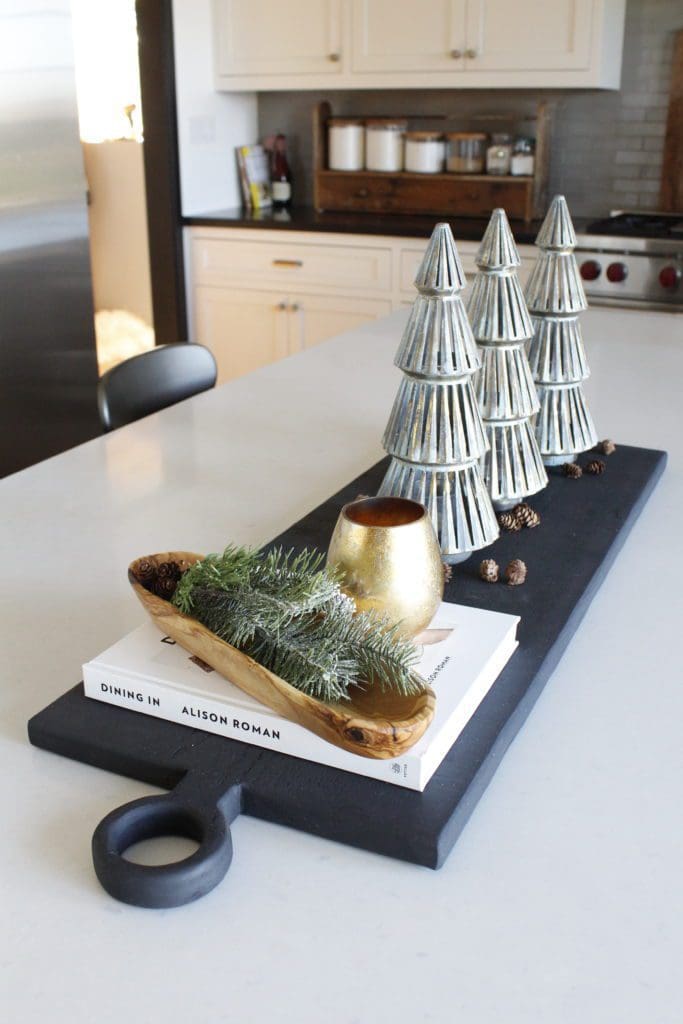 Our front door is one of my most favorite things. You can see it in the mirror. We painted it black last year and turned it into a dutch door. JJ also made this bench out of welded steel for me and I had the "leather" cushion made. Hanging from the light is my most favorite way to display the beautiful Christmas cards we receive each year. Twine and some clothespins do the job perfectly.
My most favorite find this year are these throwback candles for the tree. I love to turn all the other lights off on the tree at night and just have these it. It is so beautiful and calming.
Keeping it simple in the primary bedroom with pops of red and a calming well lit base.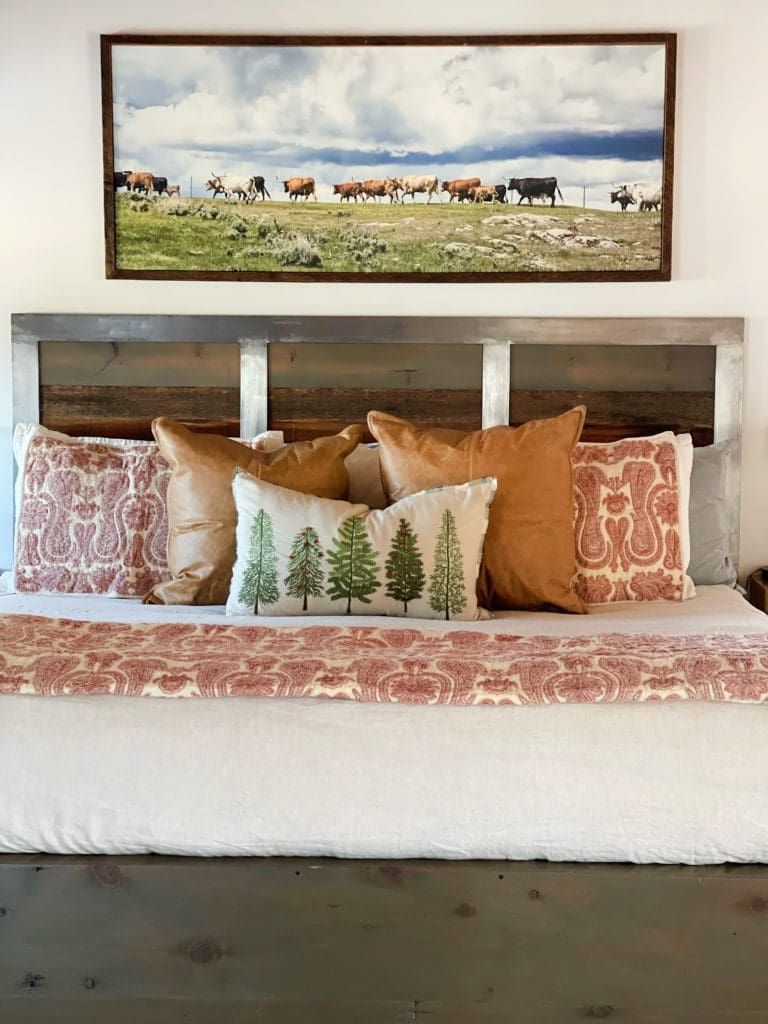 And as you exit our home, take a look back at the front door. Black, green and light welcome you to the house with beautiful pops of red and of course a doormat to fit our personality.