This simple off-the-counter produce storage ladder will declutter your countertops and allow you to separate your produce into like baskets. No more apples, with the garlic and onions (ewwww)!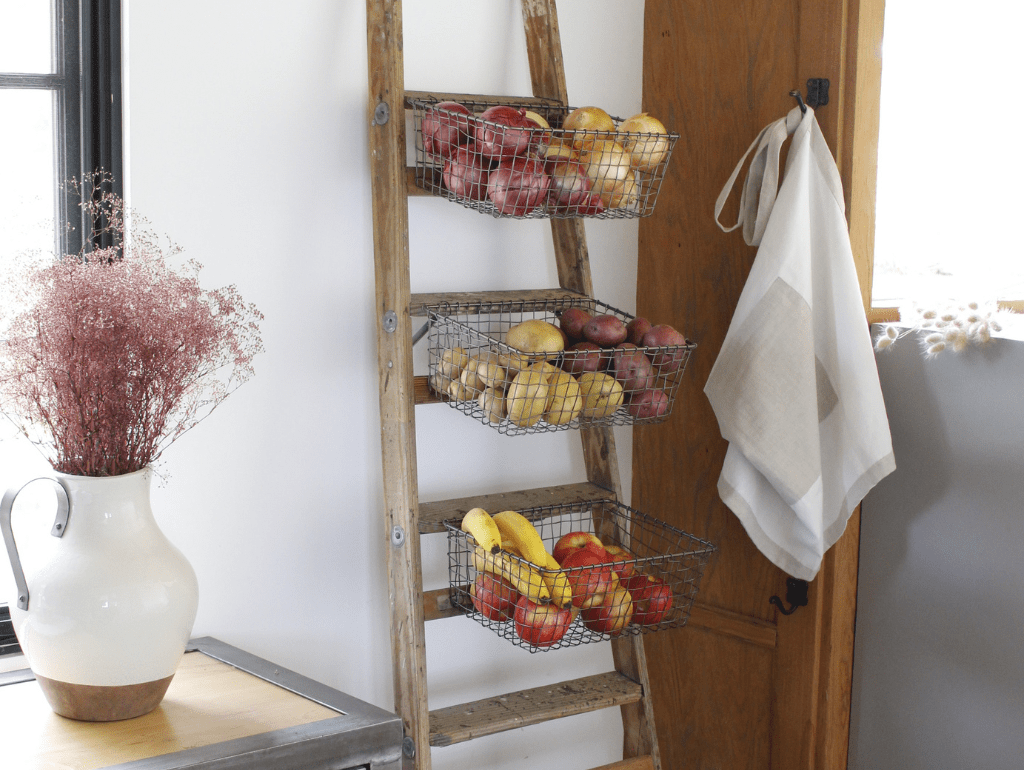 This post contains affiliate links which simply means if you buy a product we suggest and link to, we get a small percentage for the recommendation. That's what allows us to provide great free content! Thanks for the support!
A Simple Way to De-Clutter Your Countertops
I like to keep my counters clean of clutter. Having produce stands or bowls taking up space makes me feel closed in and I hate working in my kitchen when I feel that way. So I came up with this produce storage idea to turn an old ladder and some baskets into my produce holder.
As is usually the case, I come up with the idea and I ask JJ to do the hard stuff. He obliged.

I purchased an old ladder from one of my favorite places here in San Diego, The Barn Redefined. You can get them at almost any antique store in your area. They always seem to have old ladders in one of their booths.
I ordered three baskets from the Container Store. These are the right size for most ladders and hold the perfect amount of produce per basket.
Watch exactly how JJ made it!
Produce Storage Ladder Supply List
Let us know if you make your own DIY ladder by sharing on Instagram or Facebook and tagging us! Or just DM us if you are the shy type 🙂
Have you checked out our latest Remodeling projects? We just finished It's Kind of a Big Deal, a 10,000 square foot remodel in Rancho Santa Fe, CA and Sand Down in San Diego a 4,000 square foot remodel in San Diego, CA. Great design ideas to take a peak at!