Simple fall decor ideas that create a cozy, inviting ambiance that will get you in the mood for hygge.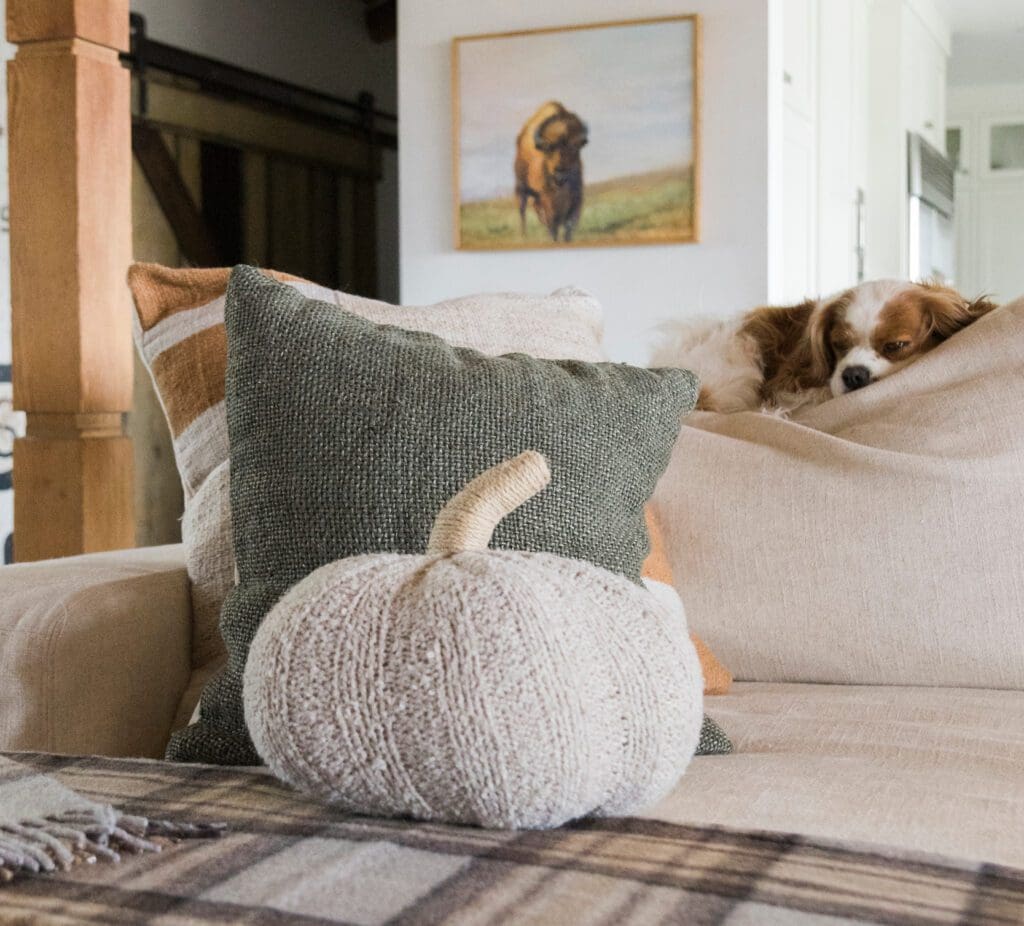 My fall decor style (and overall design style) could easily be summed up in one word I stole from the Danish … hygge. 
Hygge [ hoog–uh ] – noun – (especially in reference to the Danish lifestyle) the feeling of coziness and contentment evoked by simple comforts, as being wrapped in a blanket, having good conversations, enjoying food, etc.
Home is about creating space that is both a tribute to memories of the past as well as a cozy, inviting place to create new ones. It should reflect your inner soul, bring you comfort and show off your own personal style.
When you come to my house, especially for the holiday season, I want you to want to grab a blanket from the basket, snuggle into our sofa and watch the fire dance while we laugh and share wine and stories for hours. I want you to feel so at home, so cozy, you never want to leave.
I want you to leave. By 9:00. 10:00 at the absolute latest. But I don't want you to want to.
Fall decor is about enhancing your current style with colors and textures that celebrate the season but stay true to you and your design.
If your style is maximalism GO BIG AF. I love visiting over-the-top designers homes. I'm always impressed by how they get all that design in one small space and make it feel uncluttered-ish.
I am not a minimalist, but I am about simplicity. If I add a piece of holiday decor, I remove a piece of non-holiday decor.
Nothing creates a cozier, more inviting ambiance than a perfectly lit room with dimmed lights and candles, upon candles, upon candles. Put them everywhere.
candlesticks • multi-wick candle • candle snuffer • oblong wood tray • similar stems
Pillow covers are the easiest and most effective way to change seasons in your decor. I have specific sized inserts that I use for all seasons and just change out the covers. HOWEVER when I see a fabulous pillow like this lumbar pillow, I can't help myself.
sofa • plaid blanket • similar block pillow • green & orange pillows • similar plaid lumbar pillow • green tapestry pillow
Baskets and baskets of blankets. They add texture and colors of each season and they create that cozy hygge that makes people feel like they could stay forever.
I'm a big fan of using art to change out seasons and holidays. I have my main pieces on the wall that stay year round, but I switch out my mantle and shelf art seasonally and holiday-ly. It's also a fabulous way to support artists on Etsy or add a vintage touch by shopping your local antique stores.
candlesticks • fox art • arched brass mirror • similar fall stems
Changing out pieces on your shelves with update fall artwork, textures and colors sets the holiday tone.
pumpkin candle • acorn artwork • fox art • black fluted bowl
Beware, hygge gonna getcha.