This Host and Hostess Gift Guide is full of amazing gifts that will get you invited back next year.
I do a lot of hosting and I know how appreciated I feel when someone brings me a hostess gift. Especially one where thought was clearly put in. Not just something picked up at the store on the way over. Though if that's the best you've got, make it Sonoma Cutrer.
When I am a guest, I like to bring something special. I know how much time and effort goes into hosting. I do not bring candles as I have only like the scent of less than 1% of the candles I have received over the years and flowers are a never because that causes the host or hostess to go dig out a vase and plop the ill-fitting flowers into while dealing with the other host duties.
Hostess Gift Guide Tips
1, If you bring flowers as a gift, bring them in a vase, prearranged.
2. Orchids make everyone feel like a failure in the end.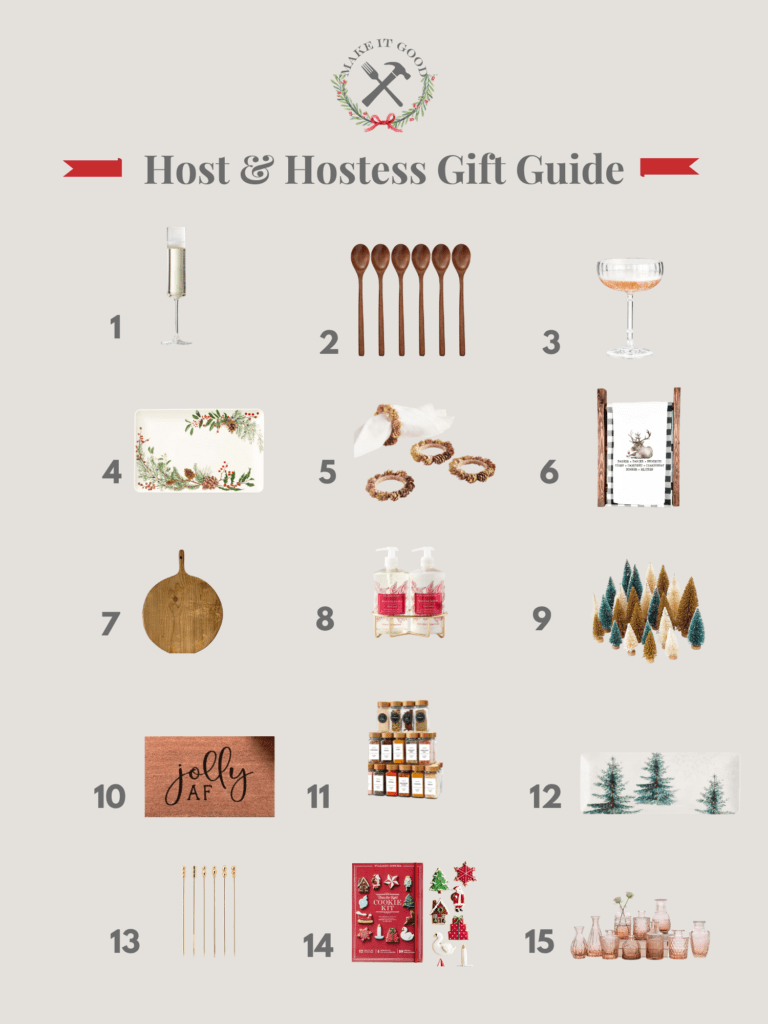 1. Champagne Glasses
I bought these for myself a few years back and then I gave away all of my other champagne flutes. These are the best and I get tons of compliments on them. I love to take four of them as a hostess gift along with a good bottle of champagne or prosecco.
2. Wooden Spoons
These are my favorite wooden spoons. I use them every night. I love to tie them all together with a pretty bow and give them as a hostess gift. It's the gift that keeps on giving.
3. Coupe Glasses
The roaring 2022s have brought these glasses back on trend and I am here for it. I feel far more sophisticated than I am when I drink out of them.
4. Holiday Serving Platter
This traditional holiday platter will be a winner at any holiday party. It's timeless and plays nicely with a modern or traditional host or hostess.
5. Pinecone Napkin Rings
I bought these for myself this year and I LOVE them. You are also going to love them when you see my Christmas tablescape decor AND any host or hostess will love you for bringing them.
6. Christmas Towel (IYKYK)
I mean, these would certainly be the names of my reindeer and any host or hostess with a sense of humor will love you giving them these dish drying beauties.
7. Cutting Board
A decorative antique-ish cutting board is everything right now and you will be too if you show up with this gift.
8. Hand Soap and Lotion
No surprise here, I bought these for myself this year. The scent is perfect and it lingers with the faintest smell of holiday for hours.
9. Bottle Brush Trees
Read any article on 2022 Christmas trends and bottle brush trees come up. They are great for holiday centerpieces, place settings or just shelf decor. You will definitely get invited back with this gift.
10. Jolly AF Mat
I mean, if I have to explain …
11. Spice Jars
I love showing up with these fabulous spice jars and filling a couple of them with my homemade Italian Seasoning and my chicken and pork seasoning. Homemade touches make it good.
12. Christmas Tree Dessert Tray
This simple dish is the perfect way to show up with sliced homemade Banana Nut Bread.
13. Martini Picks
Nothing elevates a martini or a hosts status like a brass pick and some fabulous bleu cheese olives.
14. Christmas Cookie Cutters
I'm crazy for these cookie cutters. I do not have the time nor the temperament to ice cookies but these are great for kids who don't have perfection issues. I make my Browned Butter Rolo Chocolate Chip Cookies and bring these cookie cutters. Go on, be the star.
15. Amber Glass Vase Set
Saved the best for last. These are amazing. Table decor, shelf decor, one in the powder room, guest bedroom nightstand. Their worth is endless and if you show up with these your invites will be too!