Summers were made for porch swings. Don't have one? No problem. JJ shows you how to make a porch swing of your very own!
This post contains affiliate links which simply means if you buy a product we suggest and link to, we get a small percentage for the recommendation. That's what allows us to provide great free content! Thanks for the support!
Porch swings and summer days are the perfect pairing. Whether it's late afternoon with a glass of freshly made sun tea or while enjoying an evening breeze sipping a much earned glass of wine, there's no better place to be in the summer than a front porch swing.
When we purchased this house in 2013 there was a koi pond (see terrible grainy photo below and don't you dare miss that gorgeous puke green color) that surrounded the front door complete with a walkover bridge. While that might have been the thing back in the 50s when our home was built, it was not our thing so we removed it. The fish went with the previous owners.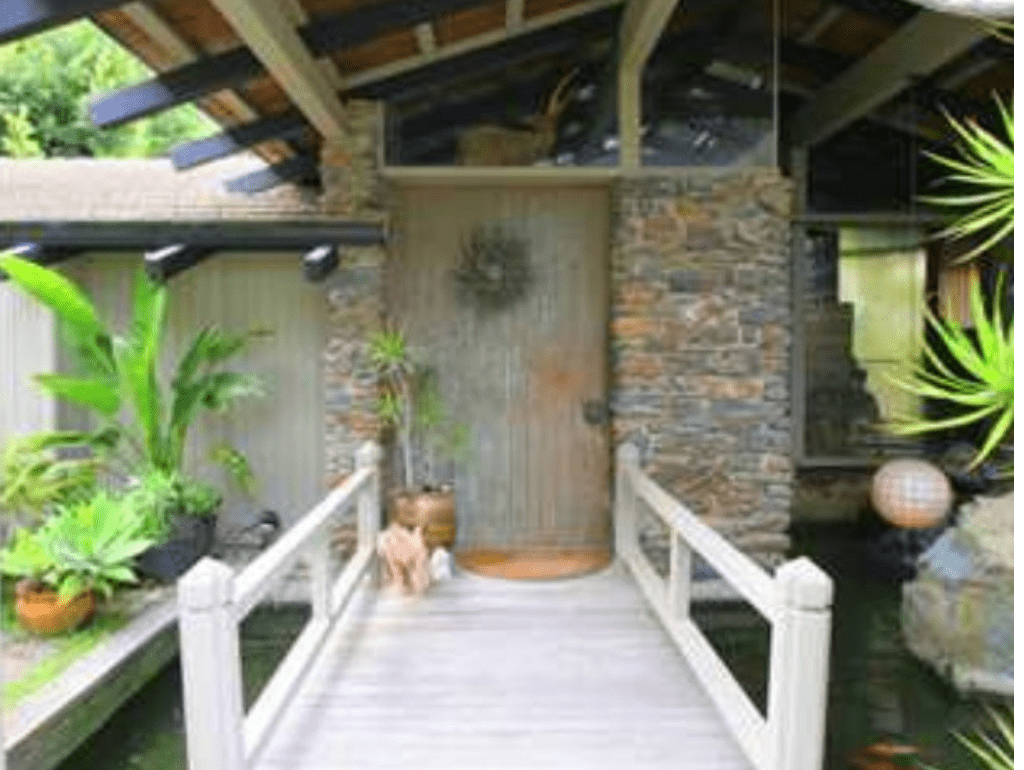 That left us with a big alcove area next to our front door. I asked JJ for years to make a porch swing for the space, but he kept saying, "there's nothing to look at out there". (So y'all know, this is a Texas raised boy who was pushing back on my porch swing. I feel certain there are southern laws against not having a place to sit on your front porch.)
I let it sit for a while and then I threatened to order one online (it's always my go to and it somehow keeps working). Appalled, he said, "Don't order one, I can make it."
Front Porch Swing Plans
I searched online and finally found a set of plans I loved. These plans have farmhouse details but still feel modern. I downloaded them, handed them off to JJ and he got busy.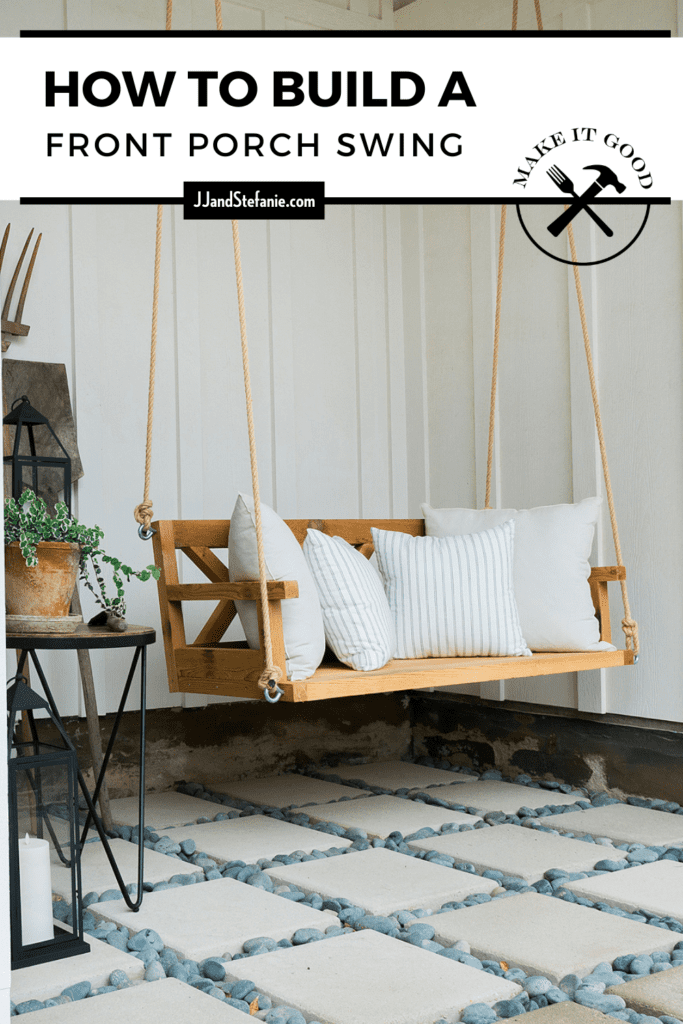 We used rough sawn cedar and gave it a light sanding after it was all put together. Next, we sealed it with Thompson's WaterSeal to protect the wood and we hung the swing with this beautiful 3/4 " jute rope.
But, how to make a porch swing? JJ shows you the step-by-step process in the video below. Everything you need to make your own porch swing and start enjoying your summer evenings outside is below! Scroll down below the video for all the tools and supplies you will need!
Tools Needed
Supplies
#14×4" Black Lag Screw (7)
1/4" Black Washers (7)
3" Screws (28)
#10×1.5" Pocket Screws (12)
#14×2.5" Pocket Screws (9)
3/8" Pocket Hole Plugs (12)
Eye Hooks: 7/16" x 5-1/4" (2)
Eye Hooks: 3/8 x 4-1/2" (4)
Protective Sealant
Lumber Needed
2"x6" x 8' (3)
2"x4" x 8' (2)
Add your favorite pillows for texture and to finish the look. I found my pillows at Home Goods. I actually followed a woman around in the store for about ten minutes because she had those pinstriped pillows in her cart and I was hopeful she would put them down and she actually did. SCORE! Not sure if we are going to call that creepy or determined. Creepermined? Below are some similar options.
Outdoor Front Porch Swing Farmhouse Pillows
We are still looking for the perfect table to put in front of our porch swing, but we wanted to share this DIY with you right away so you can get started now and enjoy it all summer long!
If you have any questions for JJ on the build, DM us on Instagram or send us an email at help@jjandstefanie.com.
Other DIY Projects
Are you feeling like getting busy? We have plenty of other DIY projects to keep your hands active. Get your produce off the counter with this fabulous Antique Produce Storage Ladder or keep critters from eating your tomatoes with these Protective Tomato Cages!