I grew up in Indiana. Brick was everywhere. In my mid 20s I moved to California and brick was nowhere to be found. When we built our house, I wanted to bring some of my Indiana upbringing back and chose to bring some of my hometown into my living room.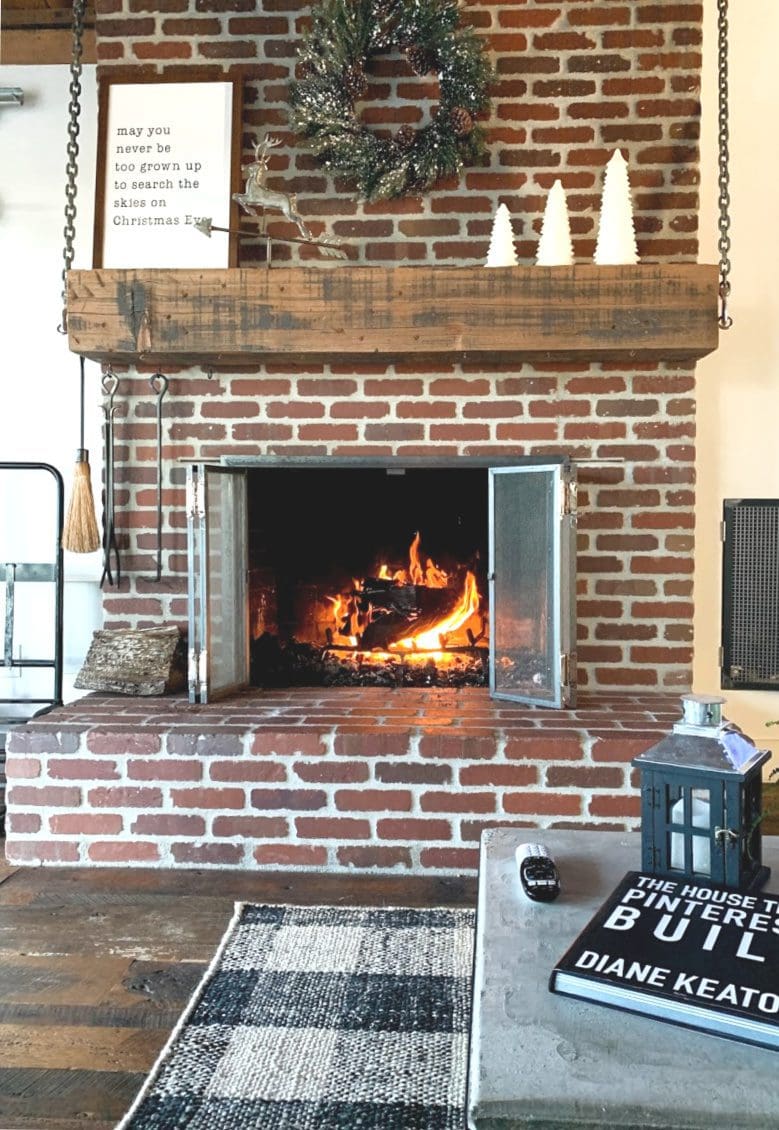 I love it for about two years, and then I didn't. The room feels dark with dark reclaimed barn wood floors and wood ceilings. I pondered ripping off the brick and redoing it with slab or stone. But I couldn't figure out which one I truly wanted and I wasn't about to spend money on it until I was ready.  
I knew brick painting was trendy, but painting brick was BLASPHEMY in my book to this girl from Indiana. Or at least it was until it wasn't.
After thinking about it for two years, I finally decided I wanted to lighten up the room and if that meant painting my brick white, then that's what I had to do. Blasphemy and all. 
It was so easy to do and it COMPLETELY changed the living room. The white made it feel more open and airy and less dated. I am crazy for the way it turned out!
Note: I've outlined the steps below. BUT, before you dive in, you should know … white gets dirty. Especially if you are burning real wood. The tools hang from my fireplace and they leave black marks where they hit the brick. There are areas on the hearth that are also stained from a spark coming out or the wood sitting on it. In my book, that gives it character. Character may not be your thing. If you are expecting your white fireplace to look pristine white forever, this is not the right plan for you. 
Still interested? Let's do it! 
Step One:
Clean the brick and the grout with water and a rough towel or sponge. Let dry. 
Step Two:
Tape off the edges so you don't get white paint on your walls, floor and mantel. 
Step Three:
Prime the brick and grout. I used Kilz All Purpose Interior & Exterior primer. We use this primer on nearly all of our paint projects.
Step Four:
Paint the fireplace. You will need two coats of paint. I used Behr Marquee Interior Eggshell Enamel, Satin finish. I know it says one coat on the can, but do two. That is for walls. Even with primer, brick is super porous. You will need them both. 
Step Five:
Sit back and admire your work!