Making the perfect hard boiled eggs every time is quite simple. It's all in the timing and temperature.
How many times have you made hard boiled eggs and the inside is mushy or green? Or you try and peel the shells off the egg and half the egg white comes off with it. I don't know about you, but it makes me physically angry. So I went on a quest to find out how to make the perfect hard boiled egg every time.
How to make hard boiled eggs comes down to two simple things. Temperature and time.
The eggs should be room temperature. The water should be boiling BEFORE the eggs go in. And the timing is 10 minutes. Then you need to immediately reduce the temperature of the eggs with cold water.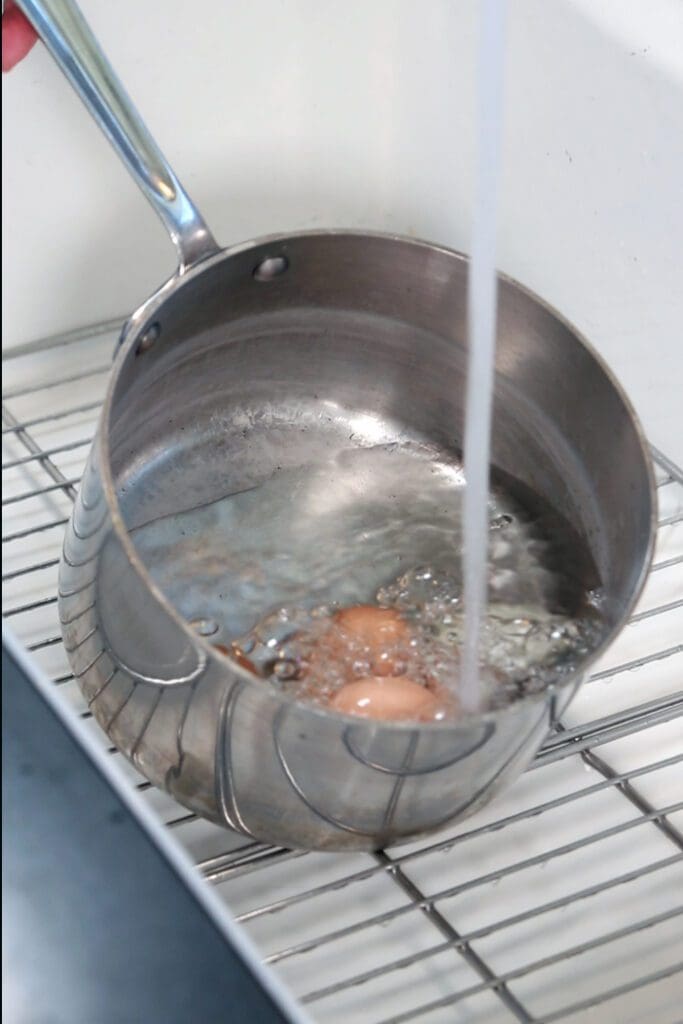 Hard boiled eggs make a quick and healthy grab and go breakfast. Looking for other breakfast options?
This simple make ahead breakfast casserole is perfect the day of and then you can freeze individual pieces and pop them in the microwave in the morning for the kids before school. 
I also love banana nut bread toasted with a little butter and a hard boiled egg. A little protein to go with the delicious sugary carb. It's all about balance 🙂
Notes & Tips for Perfect Hard Boiled Eggs
Do not skip bringing the eggs to room temperature. 
Do not skip immediately cooking the eggs down. 
Pin it For Later!
Dietary Considerations
Gluten Free
Vegetarian
Nut Free
Print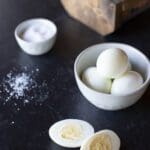 Make Perfect Hard Boiled Eggs Every Time
Author:

Prep Time:

5 minutes

Cook Time:

10 minutes

Total Time:

15 minutes

Yield:

6 servings
---
Description
Making the perfect hard boiled egg every time is quite simple. It's all in the timing and temperature.
---
Eggs (at room temperature)
Water
---
Instructions
Bring eggs to room temperature by letting sit out on the counter for about 60 minutes.
Put enough water in pot to cover eggs by 1 inch.
Bring water to a boil.
Using a slotted spoon, gently place room temperature eggs into boiling water.
Set a timer for 10 minutes and allow the eggs to boil uncovered.
Turn off heat. Carefully pour hot water into sink and immediately run cold water over eggs. Empty water from the eggs and fill the pot with another round of cold water.
Peel the eggs immediately.
Allow to return to room temperature and store in an airtight container in refrigerator.
---
Keywords: hard boiled eggs