For years I wanted expensive looking rugs, but raising three boys and countless dogs meant a hard pass on having beautiful rugs. I would spend all my time freaking out about puke, pee and spills.
Then came Ruggable. I recently started designing a home and barn for the founder of Ruggable. I did a quick google search before we met and saw the rugs online and my first thought was, cool concept, but I'm sure they don't look great in person.
Then I met her at her house for our first design meeting and I couldn't believe what I was seeing. There were stunning rugs in every room.
"No chance these are Ruggable," I thought.
They were far too nice to be the washable rugs I saw on the website. As the meeting drew to a close I finally asked her, "Are these Ruggable rugs?"
They were indeed Ruggable rugs and I couldn't place an order fast enough. I now have four and will be purchasing another this week. I put them in every house I design and felt it was my duty as a designer, mom and dog lover to help you have nice things too. My favorites are below.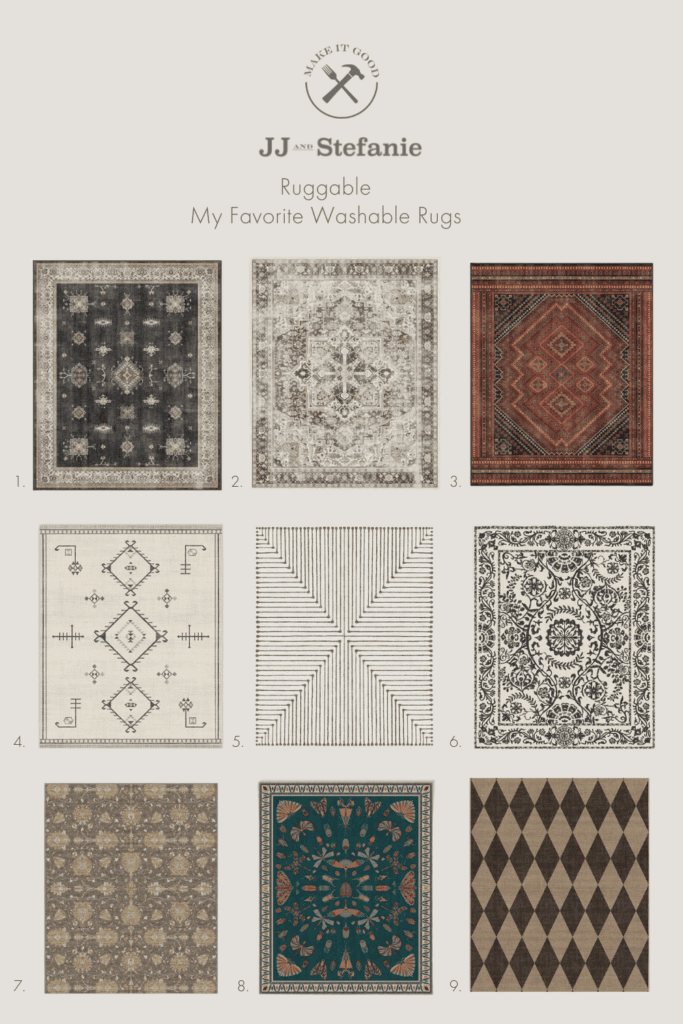 Shop My Favorite Ruggable Rugs!
1. Verdena Dark Wood – I have this one in my living room.
2. Kamran Hazel – I have three of these runners down my main hall.
3. Kaden Amber Red Rug
4. Damali Black & White
5. Jonathon Adler Inkdrop Camel & Ivory
6. Delphina Black & White
7. Marie Grey Taupe – I LOVE this for a nursery.)
8. Iris Apfel Flutterby – This collaboration is incredible!
9. Palazzo Soft Black Re-Jute
Which one is your favorite? Do you already own a Ruggable?