This year in addition to our client projects, we have A LOT of our own home projects we will be working on and sharing with you. We've been in this house for 10 years and it needs an update. What was once in, is now out and now that I've lived in this home for so long, I have a much better feel for exactly what I want to do with this space both in function and design.
We got a slight start at the end of 2022 on the living room and the laundry room. For those of you following us on Instagram you know that we removed the three garage doors in our living room and JJ built three new sets of steel French doors to replace them.
In our laundry room we replaced the glossy white square tile with beautiful marble black and white tiles on a diagonal.
One other major project we will be working on, which is something that is super important to both of us, is an overall move towards living a more earth focused lifestyle. We will be removing all of our grass and creating a sustainable landscape plan outside. We will be growing more of our own food and working hard towards less waste.
I don't know about you, but I am always suspect about the potency of products that claim to be more earth friendly. Do they actually work? I will be trying out many this year and doing comparisons and sharing my honest results with you as we move towards more sustainable living.
Look for the Mood Boards and final posts for each project here on the blog, and if you aren't following us on Instagram, make sure you give us a follow. That's where we share daily stories about the progress of each build. AND make sure you are signed up to get our weekly newsletter! That is where we share content that you won't find anywhere else.
Below are the 11 home projects we will be tackling in 2023. It's a LOT, so grab something to sip and get comfortable.
1. Laundry Room
We need more storage and I have wanted to redo my laundry room for years. I spend an outrageous amount of time there and want it to bring me more joy than it does. Along with sharing the design process with you, I am going to be putting together a cabinet comparison. I've always wanted to do a direct comparison between custom cabinets, Kraftmaid cabinets that you buy at Home Depot or Lowe's and doing IKEA boxes with SemiHandmade cabinet fronts. I get asked about it all the time, so I am going to make it happen and enlighten all of us together.
2. Office
What used to be the kids playroom is now our office. JJ made these two stunning desk-tables and everything will be designed around these.
A few of our ideas for this room:
I want a large antique armoire to build around on one of the walls. We will do custom cabinetry all around it but the antique piece will be the main focus.
We are going to put a potbelly stove in here and are struggling with positioning.
We will be adding a separate sitting area for creativity time.
And a television because we are both big sports fans and like to be able to have sports on in the background while we work. Go Colts! Go Cowboys!
3. Kitchen
The layout of our kitchen is perfect but I want to update the look. I use the heck out of my kitchen. As Steve, my favorite custom cabinet guy says to me, "You're really hard on your cabinets." I think what he means by that is we REALLY USE our kitchen. All day, every day. It's definitely our home base in this house.
Look for new slabs, backsplash and paint on the cabinets. A new hood and maybe even a completely new island. I am toying with an antique piece for an island instead of custom cabinets. We might even redo the window over the sink and make it a pass through. I can't decide if I want to deal with that. Stay tuned!
4. Primary Bedroom & Bathroom
The bedroom is pretty straight forward. I've had a window seat that has needed a cushion made for it for 10 years. That's right. 10 years. The cobbler's children have no shoes.
There is also a sitting area that needs chairs and a table. I want to turn this sitting area into my writing space. It's hard to stay focused in the office because JJ and Noah are often meeting there or JJ is fielding one of the 8,000 calls he has to deal with daily.
The bathroom is a little more intensive. I want to drywall over this brick wall. Don't hate me. It's not real or original. I added when we originally designed this house with a more industrial farmhouse style. We are going to increase the size of the shower by a couple of feet and put an extended sit down vanity so I can get all my crap of of our main sink. We will be adding a wall system behind the door for storage and painting all of the cabinets.
5. Living & Dining Room (It's one space)
We have a very long and narrow living room so we converted the far end of it into a dining room. Years ago we bought a french antique table and I had it in storage for years, unwilling to part with it, because this house didn't have a dining room. Now she's out in all her glory and I couldn't be happier. We took out the old garage doors pictured here and JJ built me three beautiful sets of French doors. We removed all the brick on the fireplace and replaced it with beautiful limestone.
Next up is to find a new armoire for this room, lighting and some final touches. Look for the Mood Board soon and the finals in March!
6. Powder Room
When we first bought this house there was no powder room. That meant any guests that came over would have to deal with the boys bathroom. Ummm. Hard pass. So we converted a small closet into our powder room. We didn't do much with it, just added a toilet and sink and called it a day. I want to have some fun with this small room. We are going to be doing wainscoting and wallpaper, a new vanity, lighting and plumbing fixtures in this room.
Small rooms are so fun to design. You can go crazy over the top and for some reason it just works.
7. Home Gym
We shared our Mood Board for this project last week. It's in progress and I can't wait to have it finished!
8. Colts Bedroom
Colt is a junior in high school. He took over Noah's room when he moved out and we didn't really do much updating. We want to redo his room with his style. He loves acting, anything related to space and all things activism. Look for the the Mood Board for his room soon!
9. Sustainable Landscaping & Outdoor Living Space
As I mentioned above we are moving towards a more sustainable earth friendly lifestyle. Water is a definite issue here in southern California. As much as I love the calming look of grass and the feeling of it on my bare feet, it takes a ton of water and so we have decided to part with it and go with more sustainable landscaping. Think dee gee (decomposed granite), olive trees, native California plants and a wildlife garden.
We are also adding an outdoor kitchen, a custom grill for our large pig roasts and big outdoor dinners and a plunge pool.
10. Mudroom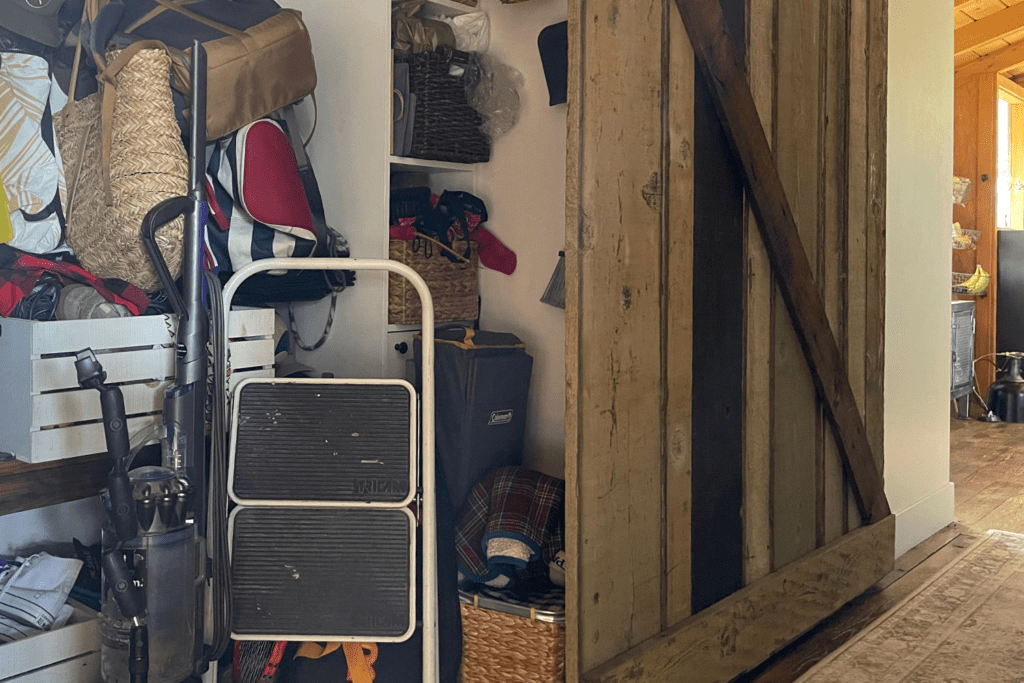 While it would have been great to turn our laundry room into a mudroom, we don't come in through that side of the house. Since we didn't have room for a proper mudroom JJ and I brainstormed and turned our large walk–in-ish coat closet into one. That photo is giving me hives. This might be top of the list now.
It needs some love. It has become an oversized junk drawer. JJ build a large sliding barn door and I want to be able to leave it open when we have guests so they can easily hang bags and jackets. I want it to be something worth showing off.
11. The Ceilings
When we bought this house the ceilings were painted. JJ spent weeks with a sand blaster getting them back to the original wood. And … I hate the color and I have from jump. I am not interested in painting them because they are amazing, but I want to change the color. STAT. I am working with my painter to create a wash that will get rid of the orange and give them a cooler, less warm color.
Whew! After writing it all down in this post I am feeling a bit overwhelmed. One day at a time, one decision at a time. Follow along here on the blog, in our newsletter and on Instagram!