Brown butter chocolate chip cookies with Rolos will become an instant classic in your home. They are soft and gooey on the inside with a slightly crispy outside and the perfect combination of sugar and salt.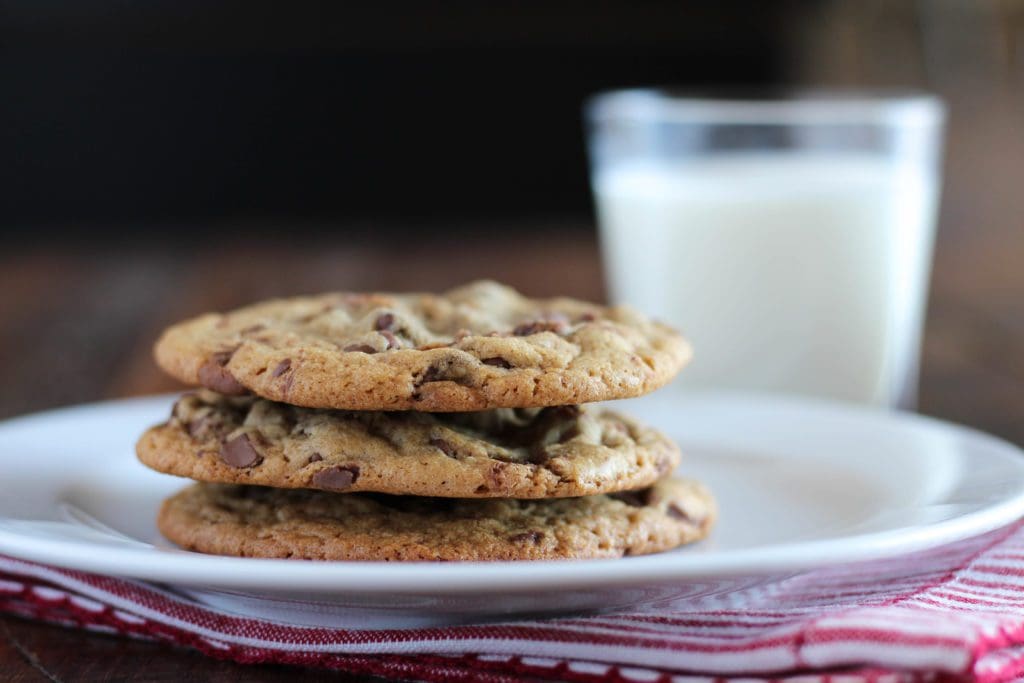 Brown butter chocolate chip cookies make me happy. Rolos, make me happier. So I thought, "What if I put Rolos in my chocolate chip cookies?" Maybe one of the most genius ideas I've ever had. These cookies became our go to over the holidays. I ate 35 too many but every single one was worth the calories.
Important Timing Note
The eggs and the browned butter need to be returned to room temperature before you can use them in the batter. The batter needs to chill in the refrigerator overnight.
Watch the whole process in under 90 seconds below. Or just click it to see what the browned butter looks like when it's done.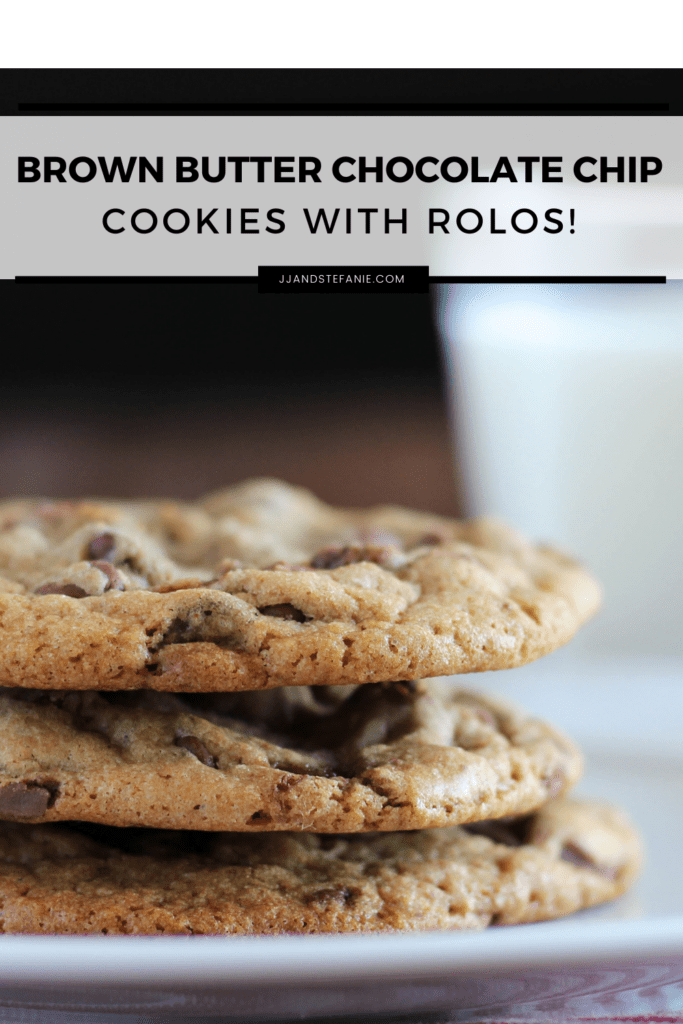 Need more sugar? Try my Mimi's Banana Nut Bread. As a family we've tried many other versions and recipes from some of the most famous bakeries. This one is still our favorite!
Print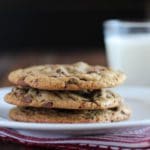 Rolo Chocolate Chip Cookies
---
3/4 cup

browned butter, returned to room temperature

2

eggs at room temperature

2 cups

all-purpose flour (see tip below)

1/2 teaspoon

baking soda

1 teaspoon

salt

1 cup

packed brown sugar

1/2 cup

granulated sugar

1 tablespoon

vanilla

25

Rolos

12 ounce

bag milk chocolate chips
---
Instructions
Place butter in a light colored pan. Heat over medium heat and stir constantly. When the butter has turned a light shade of brown, remove from heat and set aside to allow to return to room temperature. (About one hour.)
Crack eggs into a small bowl and set aside with butter to bring to room temperature.
In large bowl combine flour, baking soda and salt. Whisk until completely combined.
In a separate bowl add brown brown sugar, granulated sugar and brown butter. Beat on low for one minute.
Add eggs and vanilla to the sugar mixture and beat until completely combined. Slowly add the dry mixture and beat until flour is completely mixed into sugar mixture.
Cut each Rolos piece into fourths.
Add Rolos and chocolate chips and stir until evenly dispersed.
Place cookie dough onto parchment paper, roll into a log and chill in the refrigerator overnight.
Preheat oven to 325°
Measure 2 heaping tablespoons batter onto parchment lined cookie sheets for each cookie.
Bake at 325 degrees for 15 minutes or until bottoms are lightly browned. The middle of the cookies will still look a bit dough-y.
---
Notes
Browned butter and eggs must be brought to room temperature. This takes at least an hour.
Batter has to chill overnight.
Don't pack the flour by using the measuring cup to get it out of the bag. You want to use a spoon or smaller measuring cup to scoop the flour out of the bag and drop it into the one cup measuring cup. Otherwise you end up with too much flour and less delicious cookies.