Your Thanksgiving table decor is the literal centerpiece of your holiday feast. I have put together four different Thanksgiving table settings for you, complete with sources and photos.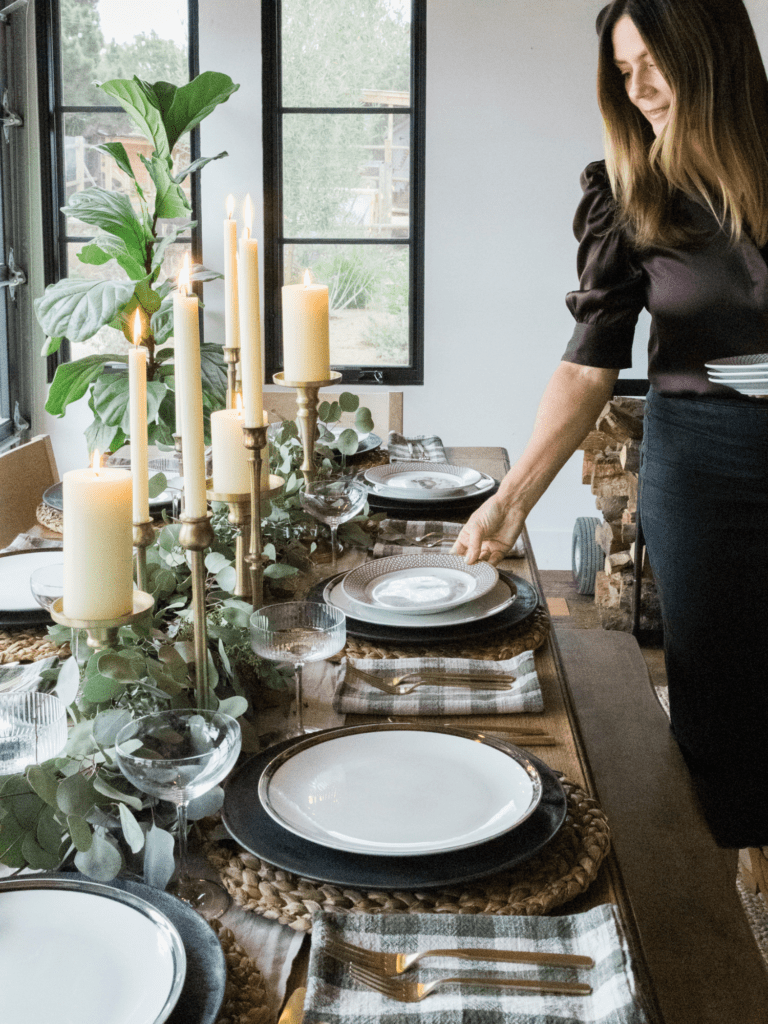 Every Thanksgiving table setting I'm sharing with you has greenery and candles. Greenery because it's soothing, a great filler and I love bringing the outside in. Always, but especially on Thanksgiving.
Candles because they fill every moment with a hygge mood and because they make me think of families years and years ago sitting around their Thanksgiving table with no light other than candles … and how easy it was for them to hide the disdain on their faces towards drunk Uncle Jerry or a smile for drunk Aunt Betty. Dimly lit rooms are a good thing.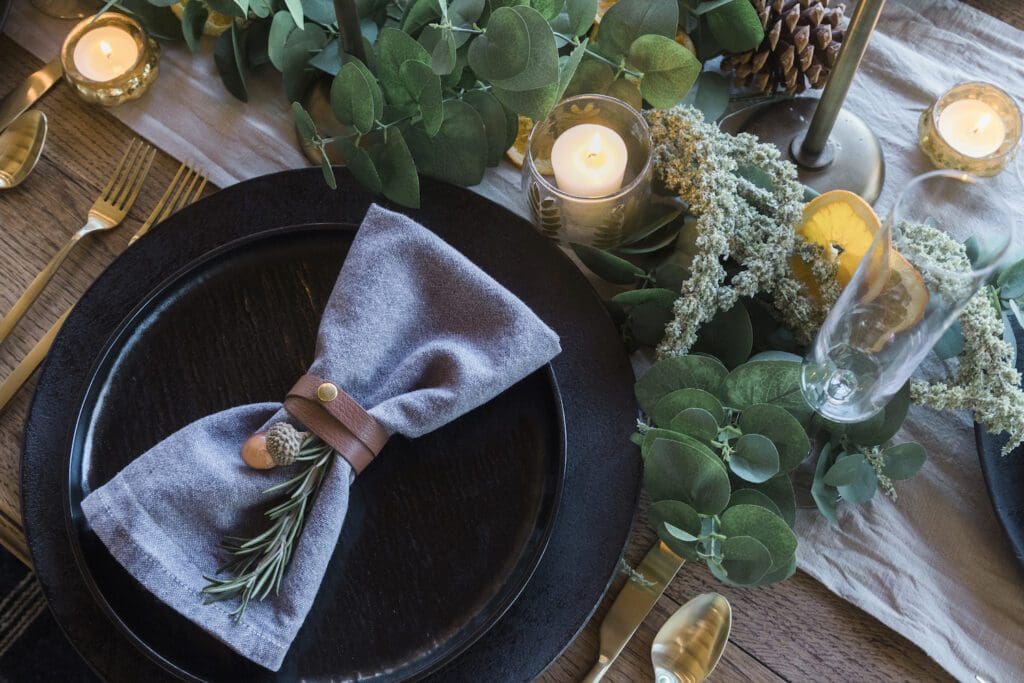 Traditional Thanksgiving Table Setting
My Mimi's china, the bottom plate with the black and silver trim, that she passed down to me gives me all the feels every year as I set the table and makes me long to pour an Early Times and water, easy on the water, over ice and replay every holiday I shared with her.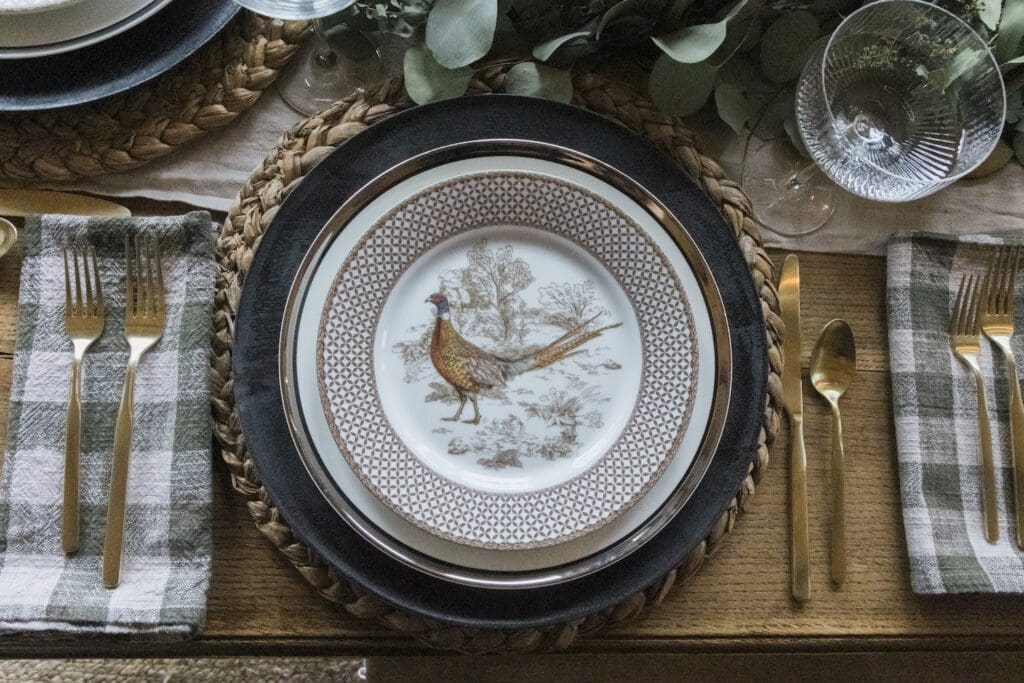 These beautiful plates are new this year. I wanted a traditional plate that wasn't too fancy. The geometric style trim levels out the fanciness of the proper and plume-y birds. I also don't like every plate to be exactly the same as you will see with these and my Farmhouse tablescape below. So when I found these Plymouth Gate plates with the four different birds I knew they were perfect.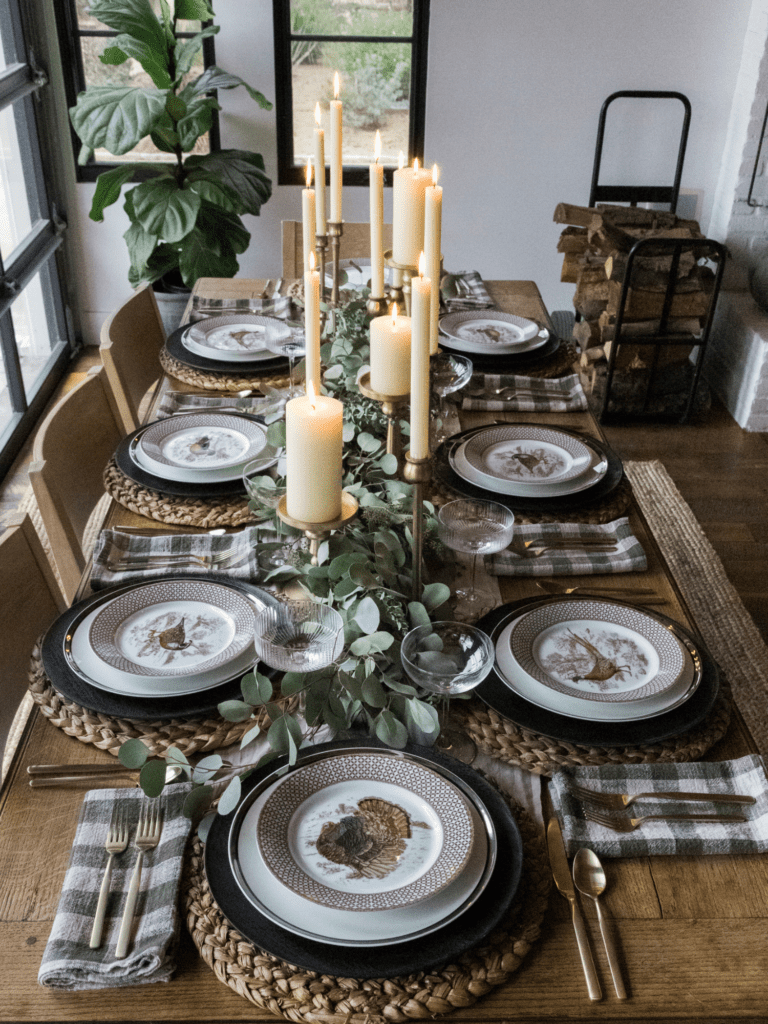 sources: Thanksgiving salad plates, gold flatware, coupe glasses, plaid napkins, black chargers, jute placemats, candle holders, candles, wood cart, chairs
These place settings are the perfect balance between elegant and casual. The silver and black rimmed china, gold silverware and the Plymouth Gate plates elevate the elegance while the plaid napkins and jute placemats make you feel like you can leave your shoes on and spill a little red wine and still get invited back next year.
Moody Thanksgiving Table with Black Plates
I am such a fan of a dark moody Thanksgiving table setting with black plates. It's pure elegance.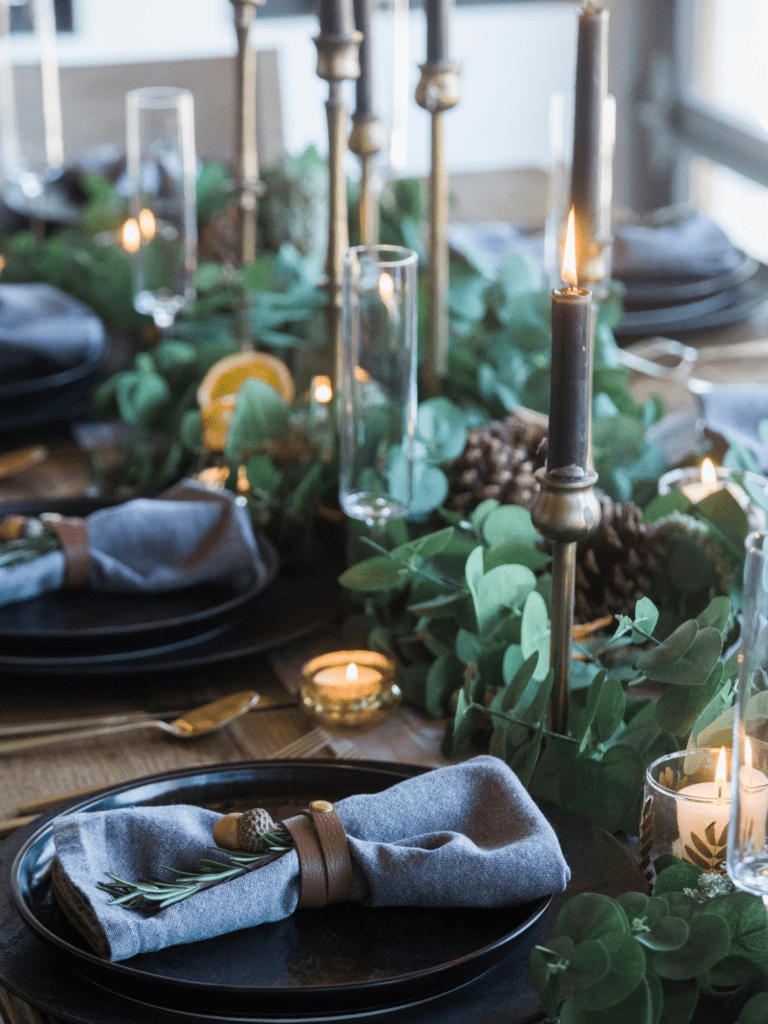 I love how the greenery, pine cones and oranges bring an earthy feel to the table making it feel both elegant and comfortable.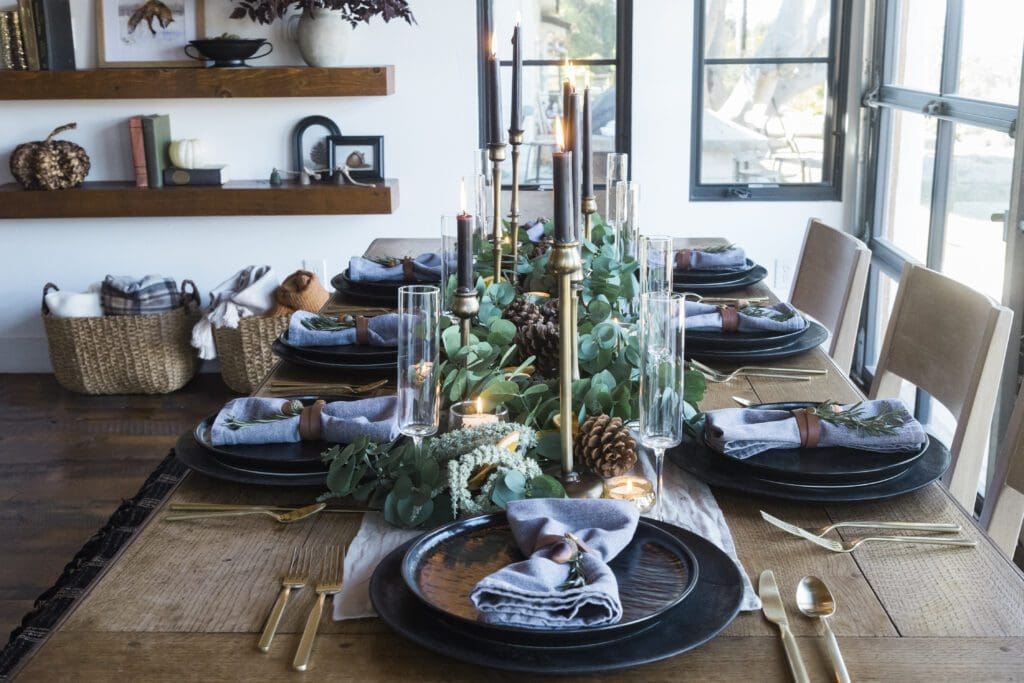 sources: charger plate, black dinner plate, champagne flutes, gold flatware, candles, candle holders, napkins, leather napkin ring, eucalyptus, shelf decor
Bright and Cheery Thanksgiving Tablescape
While it's fun to relive traditions of Thanksgiving past, it's also fun to do something unexpected.
Small amber vases filled with bright, colorful flowers and dried oranges sprinkled throughout the eucalyptus make this cheery Thanksgiving table setting one of my favorites.
sources: black charger, gold flatware, candles, candle holders, eucalyptus, chairs, shelf decor, amber vases
Simple Farmhouse Thanksgiving Table Decor
Simplicity is never a bad idea. Simple everyday white plates paired with these farmhouse rooster plates (or any decorative salad plate with muted colors). We got these as a wedding present 18 years ago so they are no longer available, but any farmhouse style salad plate will work.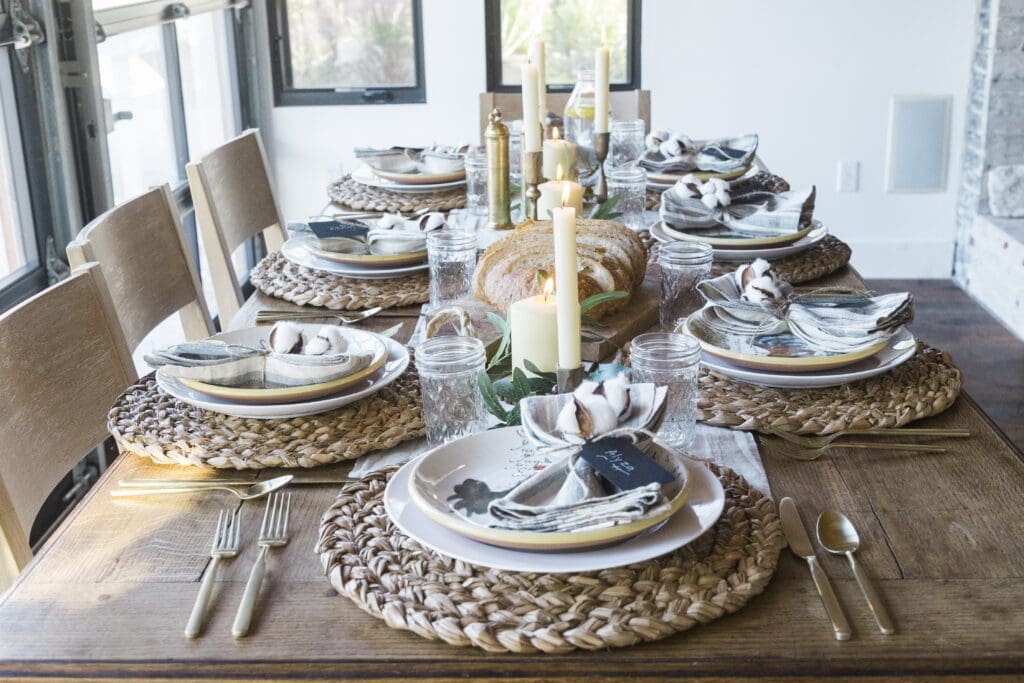 I love the simple olive branches down the center with candles sitting on wood pieces. Bringing the outside in again and adding a hygge mood.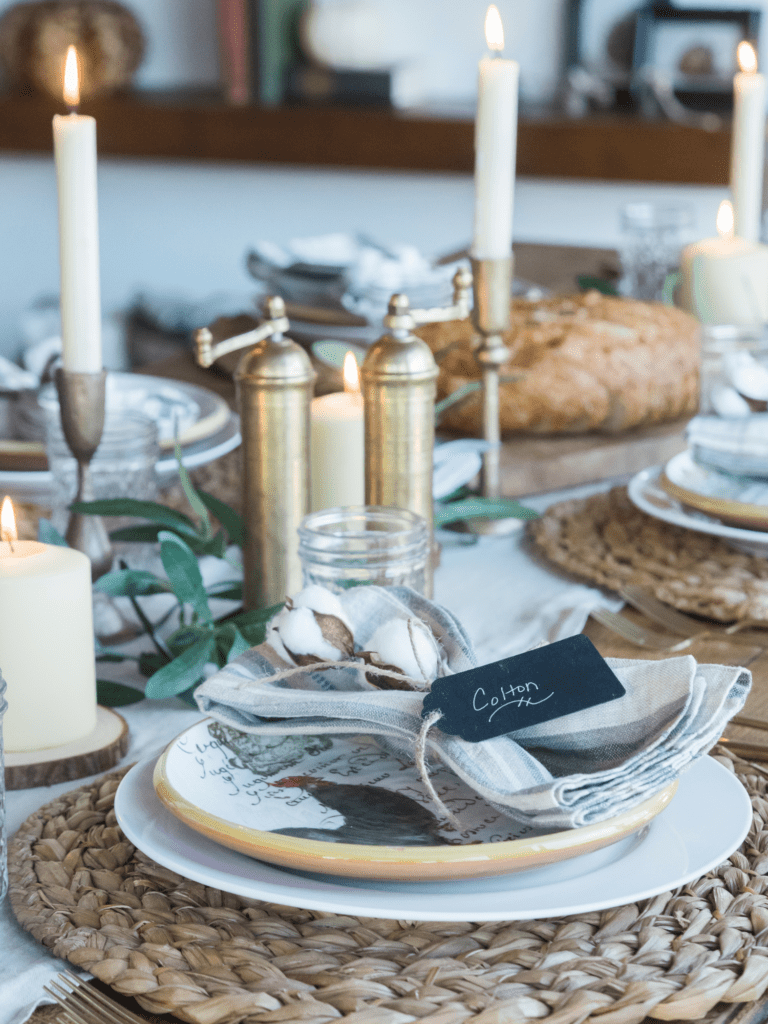 sources: placemats, white plates, black tags, white pen, brass salt and pepper mill, candles, candle holders, wood slices for candles, olive branch stems
I can't decide which one to use this year for my guests. Which one is your favorite?
Are you signed up for the newsletter? If not, sign up here so you never miss a post. We have so much fun holiday content coming your way!
A full Thanksgiving day plan, including everything to do the three weeks leading up to the big day! We have Christmas tablescapes, round ups of all our favorite artificial trees, ornaments, wrapping paper, wreaths, Christmas storage containers. We have gift guides GALORE and fabulous Holiday DIYs by JJ and MUCH MUCH more!