This Father's Day Gift Guide has something for every man in your life.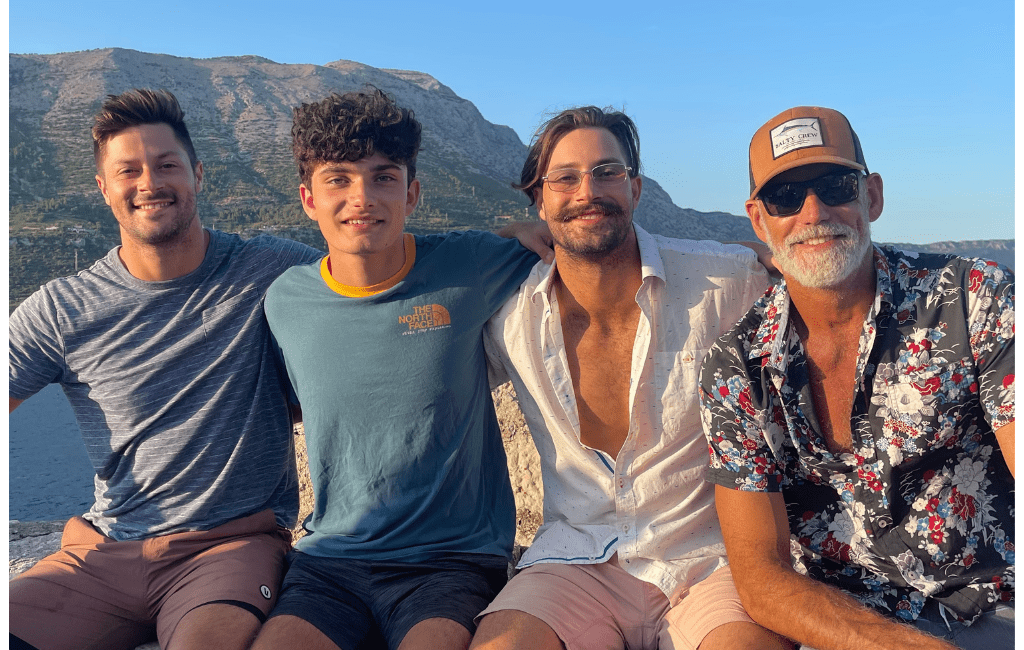 This post contains affiliate links which simply means if you buy a product we suggest and link to, we get a small percentage for the recommendation. That's what allows us to provide great free content! Thanks for the support!
Father's Day is almost here. Looking for a great gift that won't end up in the giveaway pile in a few weeks? We've got you covered! 
I asked JJ to put together some of his favorite gifts over the years. He did and it made me realize … this guy gets some amazing gifts from us. Scroll on down to check out his list!
Father's Day Gift Guide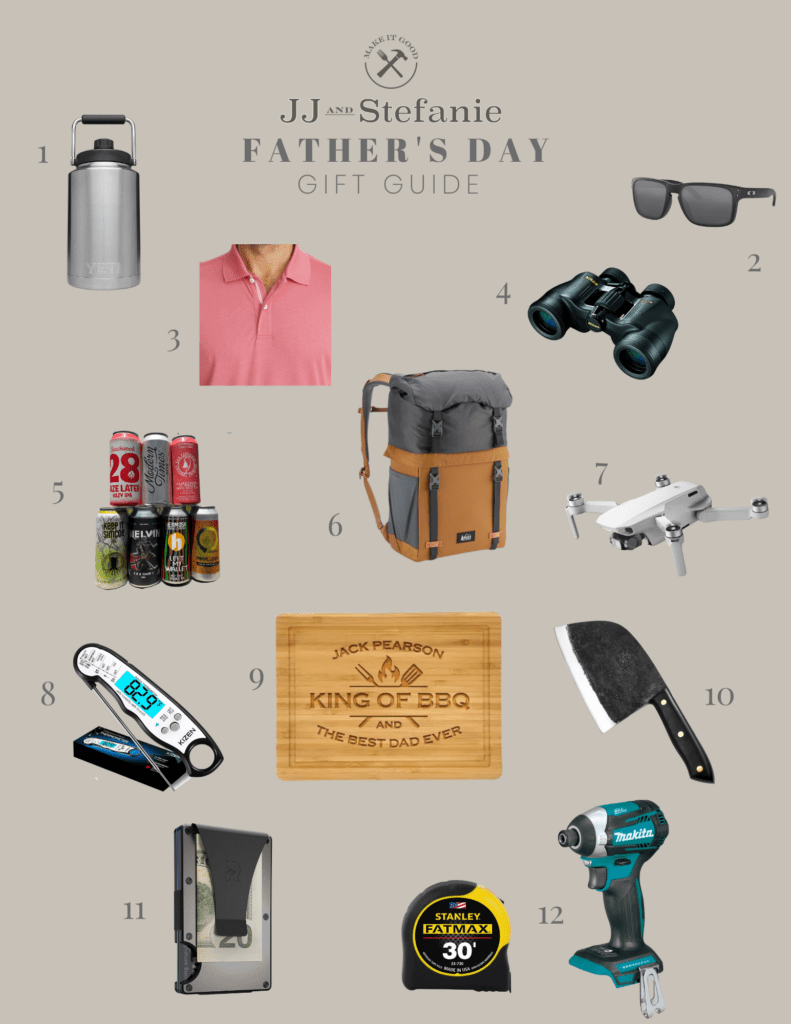 1. Yeti Water Bottle – Mo water, mo better. JJ leaves the house every morning and goes from project to project all day. He fills up his gallon size Yeti every night and takes it with him every morning.
2. Sunglasses For the sporty guy, we are big Oakley fans in this house! JJ has this pair and loves them. Also, Top Gun is back and so are those smokin' hot Ray-Bans and half dressed sweaty men on the beach. If you haven't seen the movie, GO SEE THE MOVIE. So good! Anyway, back to our husbands …
3. Untuck-it Shirts These are JJ's absolute favorite shirts! They fit perfectly and are cut to be left stylishly untucked.
4. Binoculars Great for the beach, hiking and stargazing. We also take them on our camping trips (we may or may not use them to spy on our neighbors gear) and to all our sporting events. We use these far more often than I thought we would when he added them to his wish list a few years back.
5. IPA Subscription IPAs are all the rage in the beer world. Last year for his birthday I got him an IPA subscription. Each month a box of new IPAs shows up. He loves trying beers from all over the country and all different breweries.
6. Cooler Bag This is great for his days at the beach playing volleyball or to take camping. The Yeti version is great but we found it to be super heavy so I chose the REI one instead. Much lighter and has more storage.
7. Drone This was a Christmas present last year and he uses it all the time. Super easy to use, no skills required. A really fun way to explore your neighborhood from above.
8. Meat Thermometer This is a great gift for guys who grill. If you've made any meat recipe I've ever shared you know I think a meat thermometer is one of the best kitchen tools. The grill is no exception. He uses it every time to make sure the meats are cooked to perfection.
9. Coolina Cleaver Knife Speaking of grilling this knife was a gift from a few years back and it is amazing. Not to mention whenever we have guests he looks like a badass using it.
10. Personalized Cutting Board This gift was a huge hit from Colton last Christmas. Between this, the knife and the meat thermometer he's got the grill covered.
11. Money Clip Every male in this house has this style of money clip. It's the thing right now.
12. Makita Drill & JJ's Favorite Tape Measure Who saw that coming? Everyone. I got a list of 10 different "favorite" tools from him so I narrowed it down to two for this post. BUT, I am going to do a roundup soon that lists all of his favorites in one place!
I hope that helps you solve the riddle of buying for the men in your life!
Don't forget to spoil the men in your life with an amazing Father's Day meal! Steaks or burgers on the grill with a side of Garlic Roasted Potato Wedges, caesar salad and some Rolo Chocolate Cookies for dessert!