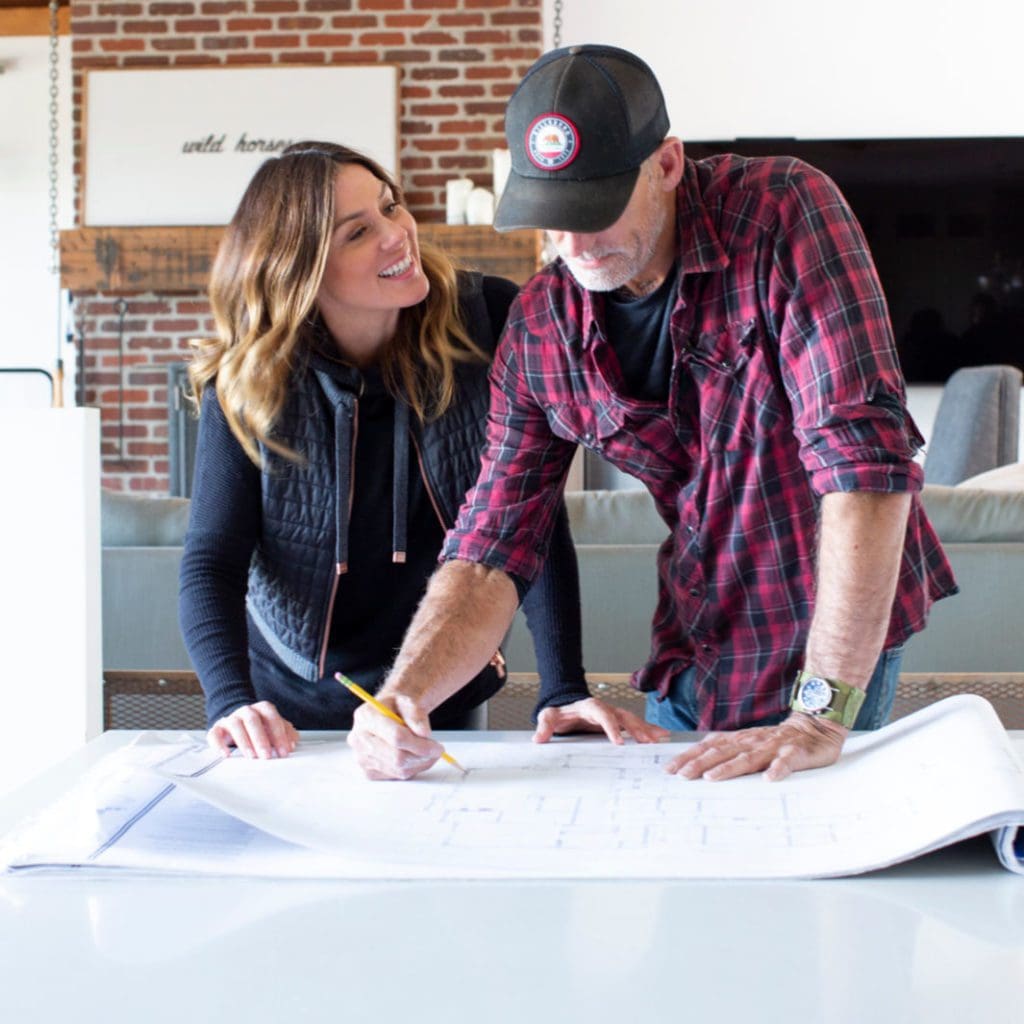 We are so glad you are here! Get comfy and stay a while.
My husband, JJ, and I have been flipping homes together since 2001. It was a passion born of necessity. We couldn't afford a home that was "finished", so we bought the crappiest house on the block and got busy figuring out how to make it something we loved on a small budget working with our own hands and desire to create a space of love and laughter built around our life and family.
We had so much fun, we sold it and bought another "crappiest home on the block" and got busy again.
This one was a much bigger project in a neighborhood full of large properties with wide open space. I was pregnant with our third son at the time. We took it down to the studs. At night we would board up the side walls with sheets of wood.
We had a "kitchen" in the garage which we called a "kitage". It consisted of a cooktop, refrigerator, card table and boxes of dishes. That didn't stop me from cooking meals every day (well most days) for my family. Cooking is where I find my sanity. Washing the dishes in a bathtub? Not fun, but worth the price of a good home cooked meal.
When our oldest son, (we have three boys 25, 24 and 15) flew the coop in 2013 and headed east to college, we bought our third fixer upper, The Holly House. This time we rented a house to live in while we remodeled. WAY better plan! I had a real kitchen and a much more pleasant disposition.
When we finished the Holly house, we decided it was going to be our forever home. The view and privacy aren't easily replaced, and with an attache guest house, it's the perfect house for our kids to come home to as they build their own families.
BUT, we still were addicted to fixer uppers. So, we took a big chance, gathered all of our savings and bought a new flipper. There were MANY sleepless nights along the way. Not the good kind. Three different roofs, stacked on top of each other, undisclosed fire damage, walls held up by only plywood, the list was endless.
Over budget and well past our proposed timeline, we put her on the market. We did a lot of praying, finger crossing and breath-holding. We even buried a Saint Joseph in our front yard, a recommendation from my catholic mother-in-law. Thankfully, it sold in less than three months and our dream of flipping homes had become a reality.
Over the next seven years, I ran my own social media agency and JJ continued his executive position for a major corporation. We dreamt of the day we would be able to shut down my business and he could leave his corporate job and we could run our own business together flipping and designing homes. We always thought when he turned 50, we would make it happen. But 50 came and went and we stayed in our "safe" place.
Then 2019 happened.
We had two friends diagnosed with cancer and we lost a friend suddenly. To say it was a rough year would be an epic understatement. It made us realize how fragile, un-guaranteed and short life can be (even if you are lucky enough to live a long life).
In February of 2020, we made our years-long dream a reality. JJ left his job, I shut down my social media agency and we became a team. I design, he builds. We flip homes for ourselves and have taken on several clients. We have fixers, new builds, remodels and we have smiles on our faces and joy in our hearts every day because we get to do what we love.
When we aren't with clients or on job sites, you will find me in my garden or in my kitchen creating a new recipe and then making it over and over until it's perfect and I can share it with you.
You will find JJ in his massive workshop working on building the list of projects I give him weekly. A new chicken coop, garden boxes, new outdoor furniture, the list is endless. Just ask him.
We have four fabulous chickens named Maleficent, Eleanor Roosevelt, Mary Jane and LaFawnduh.
We have two dogs, Otis and Lola and a goat coming soon … well as soon as I can convince the family we need one. The chickens took me 10 years, I am hoping the goat is sooner. Stay tuned. #agoatforstefanie
While most people start to slow down at 50, we are just getting started. Follow along with our newly refurbished lives. We have an awful lot of fun.