These DIY floating witch hats make for the perfect Halloween front porch decor! They are the perfect addition to cornstalks, pumpkins and flying bats at your front door! (FYI there are affiliate links in this post. That means if you buy it from the link I include, they pay me a small commission. Thanks for the support!)
I'm loving the floating witch hat trend. The only thing missing for me was illumination. Light is everything in holiday decor. I couldn't find any online I love that were simple and softly lit, so I decided to make my own. They were easy and they turned out perfect if I do say so myself.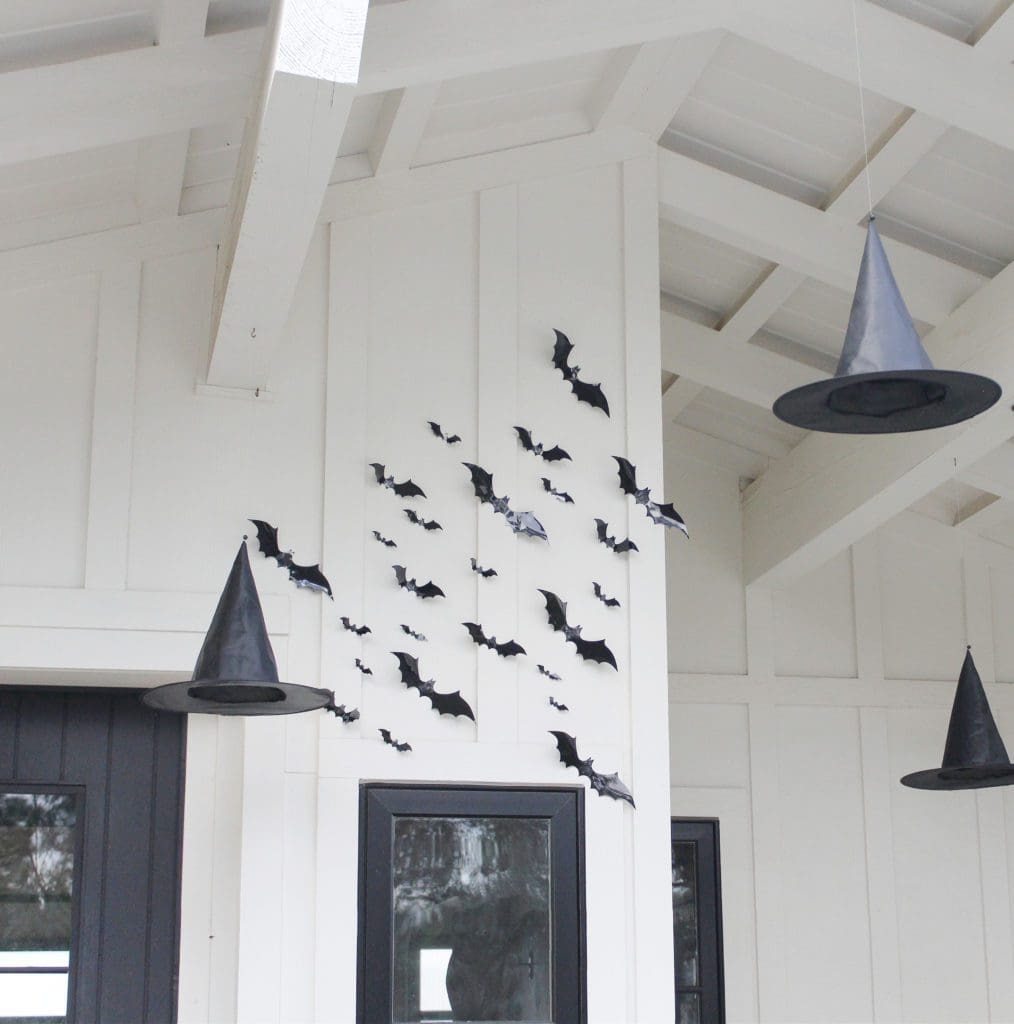 Supplies You Need for  you DIY Witch Hats
Witch Hats  (I got mine at Amazon)
Battery Operated Tea Lights with Timer (Mine are from West Elm, You can get yours at Amazon if you don't want to leave the house.)
Black Beads (Michaels or Amazon)
Small See-Through Bags aka Jewelry Bags
Fishing Line (Local sports store or Amazon)
Needle
How to Make a DIY Candle Lit Witch Hat
(You can watch the video on Instagram by clicking below, or you can scroll down and follow the step-by-step guide.)
View this post on Instagram
Step-by-Step Guide
Step One
Place your tea light candle in your small see-through bag.
Step Two
Cut off a long piece of fishing line. More than you think you will need. This is what you will also use to hang the hat.
Step Three
Run the fishing line through the tie ribbons on the top of the bag and double knot it.
Step Four
Thread the bead onto the fishing line and push it down to the point you want the bag to hang inside the hat. Hold the bead in place here while tieing a double knot around it.
Step Five
Turn the witch hat inside out.
Step Six
Thread the fishing line through a needle.
Step Seven
Poke the needle down the tip of the inside-out hat.
Step Eight
Gently reach your hand inside the hat and grab the needle. Pulling the needle and the top of the hat, return it right side out.
Step Nine
Remove the needle and thread another bead through the fishing line. Push it down to the top of the hat and double knot it.
Step Ten
Hang, turn the tealight on and enjoy!
Have any questions? DM me on Instagram! If you make it and share it, make sure you tag me!