These simple tips and ideas for your home will teach you how to use small vignette style decorating to make fall decor fun and inspiring not frustrating and wine provoking. Though I am always up for a good glass of wine while I decorate!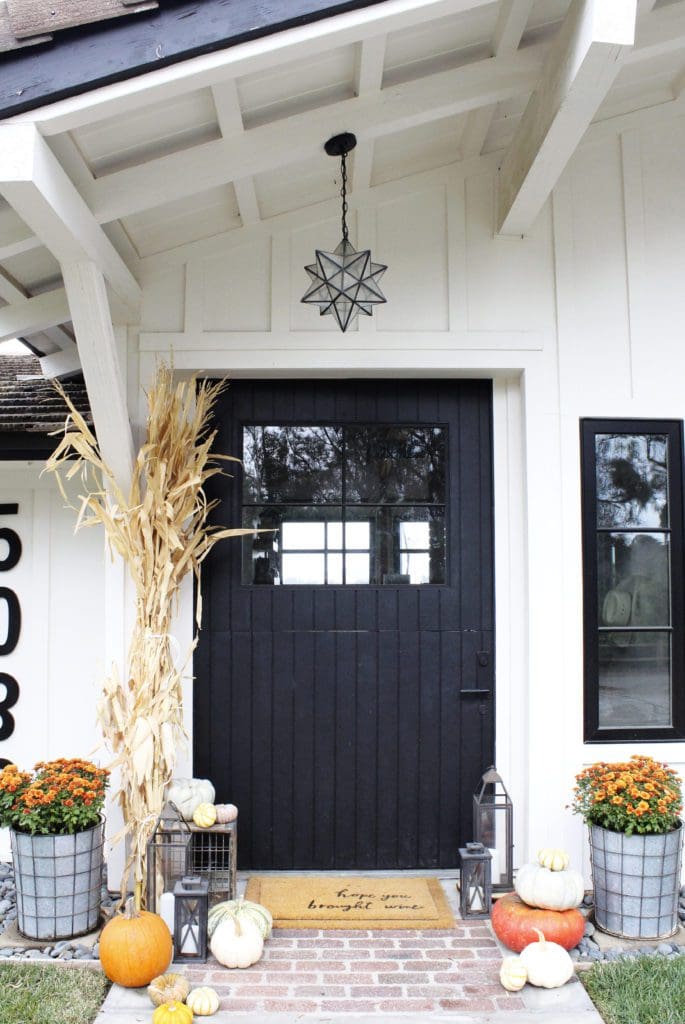 I have lived in California for 25 years, but my decor style is still greatly influenced by growing up in Indiana.We were doing farmhouse decor long before it was trendy. 
Back home, back in the day, farmhouse style was a whole lot "country" and a whole little "modern". It was animal shaped salt and pepper shakers, collected by the dozens at every garage sale and thrift store. It was cluttered shelves with framed needlepoint art, and LOTS of ducks, cows and hearts. 
Clutter makes me anxious. I blame years of dusting those shelves full of barnyard animals. I like my spaces quiet, simple and calming.
Fall decor throws a wrench in that plan. Especially fall farmhouse decor. I used to put up SO MUCH. A week after decorating, I despised it all and wanted to take it down. Don't even get me started on how long it takes to decorate and then weeks later reverse decorate only to start over for the next holiday. 
About five years ago, I decided I was done dreading my holiday decor. I went through every fall, Halloween, Thanksgiving and Christmas box and purged. I donated 90% of it and started fresh. I'm not gonna lie, my kids are still angry at me. Don't care. The joy I felt was worth their anger. And last I checked NEVER ONCE in the history of parenting them, did one of their sweaty palms ever put one piece of decor up or take it down.
Now my holiday decor is simple and calming. Here are some tips to create the same in your home. 
Tips for creating simple, calming fall decor! 
ONE. When you add something, remove something. Don't just add to the decor that's already there. Remove certain items to make room for the holiday decor. 
TWO. Have a theme or at least a list of the items you want to incorporate. My fall decor list includes pumpkins and gourds of all shapes, sizes and colors, candles and flowers (both fresh and dried).
THREE. Create vignettes. In all decor creating small vignettes simplifies the process. Instead of looking at your shelves as a whole which can be completely overwhelming, break them down into sections and create small vignettes in each one. This applies to your mantle, kitchen island, living room table, front door … everywhere. 
FOUR. Don't lose yourself. There are so many beautiful things you see online. Just because you like something someone posts on their blog or Instagram, doesn't mean you should have it in your home. Ask yourself before you order, is this my style or do I just like it in his/her home?
Tips on Creating Fall Decor Vignettes
ONE. Use old items as well as new ones to create spaces that are interesting not just store-bought. Old pieces add a richness and realness instead of feeling like you went to the store and bought the display they had set up and brought it home and put it on your table. Antique candle holders and an antique mini vase filled with salt sitting on top of crisp new cookbooks and a new tray is the perfect combo.
TWO. Use different textures. Woven baskets and bowls, wood, glass, brass, fabrics, flowers and paper. Mix a few of these in each vignette to create balance. If it's all glass it's hard a sharp. If it's all wood and baskets it's dull and boring. Mixing different textures creates spaces that have visual interest. 
THREE. Height matters. Different heights are what allow the eye to take in all the objects instead of feeling like you have to scan across each one. It creates separation and naturally spotlights each piece. Use books to add height in areas of your vignettes. 
FOUR. Use odd numbers when you group items. Three is a big number in design. Above I used three books with three candle holders. 
FIVE. Step back, observe and start over. It takes me MANY tries to get my vignettes correct. And I get paid to do this. Don't rush and don't judge. Sip your coffee or your glass of wine and give yourself the gift of creative time. 
If you set it up and it doesn't look right, ask a few qualifying questions:
Does it have different heights? 

Does it have different textures? 

Are my groupings an odd number? 

What is missing? 

What is too much? 
Then rearrange and ask those questions again. Keep asking until you step back and think "nailed it!". You'll now when it's right. 
Now it's time to put your knowledge to work and get your decorating skills on! You've got this.
When you share your fall decor on Instagram, tag me! If you get stuck or have questions, DM me on Instagram. I check a few times a day and will respond!

You know what goes great with fall decorating? Soup and comfort food! Check out some of these great fall recipes >> White Bean Chili, Yogurt Parmesan Chicken & Turkey Meatball and White Bean Soup.