Predicting design trends for an upcoming year is tricky but I am seeing a lot of repeat requests from clients and from other designers. These are some of the most popular.
Is there too much of a good thing? With family, the covid era is showing us there might be. For over a decade, we saw a lot of open concept spaces, but we can expect to see that change in 2023.
More importance is being put on creating individual spaces within our homes that allow us to escape and refuel. We aren't throwing up walls between our living rooms and kitchens, but we are taking advantage of small spaces to create nooks and sitting areas behind closed doors we can retreat to and get some much-needed separation and quiet time.
Black and white farmhouses are being reimagined with a modern Colonial twist. Vintage art, bold wallpaper, gallery walls, stark white walls repainted with warm creamy tones, decorative gold frames, crystal and globe lighting, beautiful wall detail, florals, and bright pops of colors are taking over. I am calling it Colonial Core, and I am riding the train!
Rooms that open to the outdoors like the kitchen nook above will continue to be a big trend in 2023. We are putting accordion doors and windows in every house we build. Bedrooms, living rooms and kitchens are all great place to let the outside in.
Below are six more design trends I think you will see A LOT of in 2023. 
---
1. Limewash Paint
Image Source: HMS Interiors
Limewash paint is suddenly on everyone's must-have list. It's non-toxic, breathable, and so much better for the planet. The limewash texture adds old-world warmth and character to otherwise sterile walls.
2. Upcycling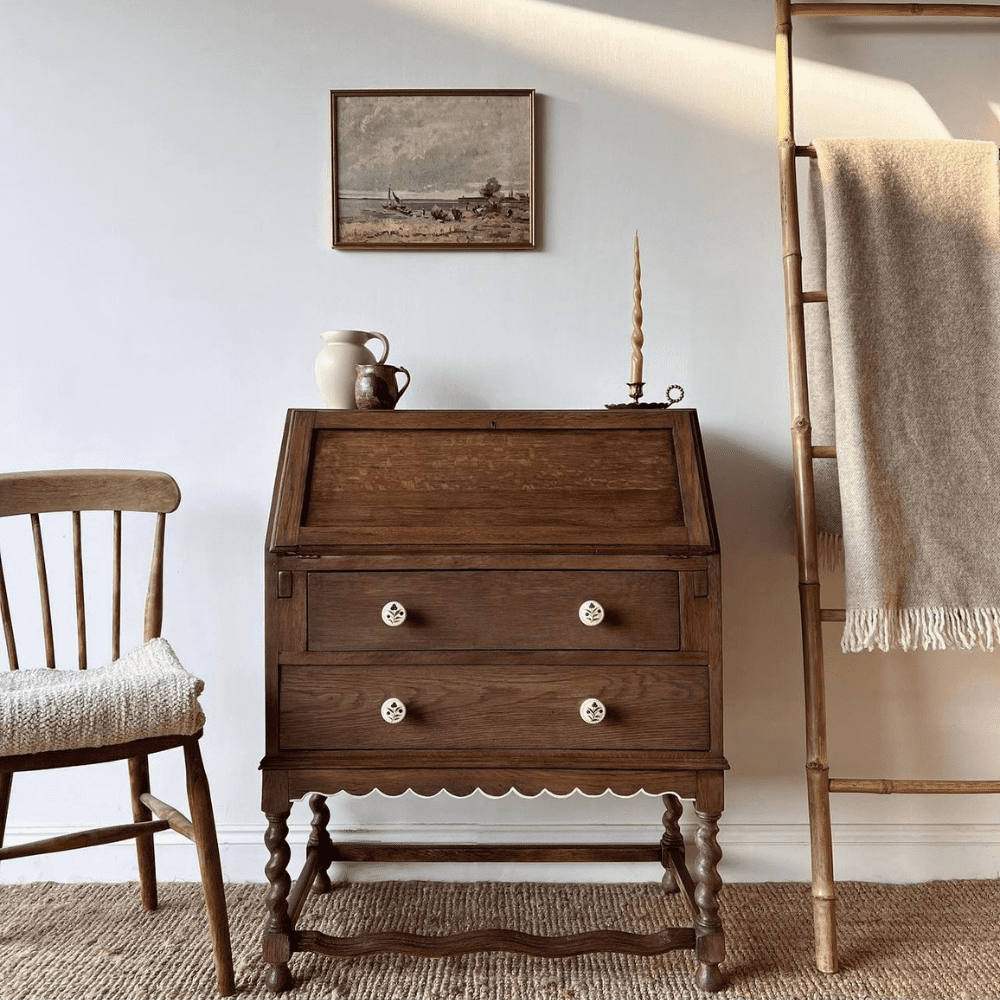 Image Source: Attica Studios
Upcycled is going to be a big buzzword this year. More sustainability and less waste. Upcycling antiques is good for the planet and for design. Therefore, the best spaces become meaningful by carefully curating with pieces that allow us to move forward while keeping us tethered to the nostalgic comfort of our past.
3. Dramatic Stone Backsplashes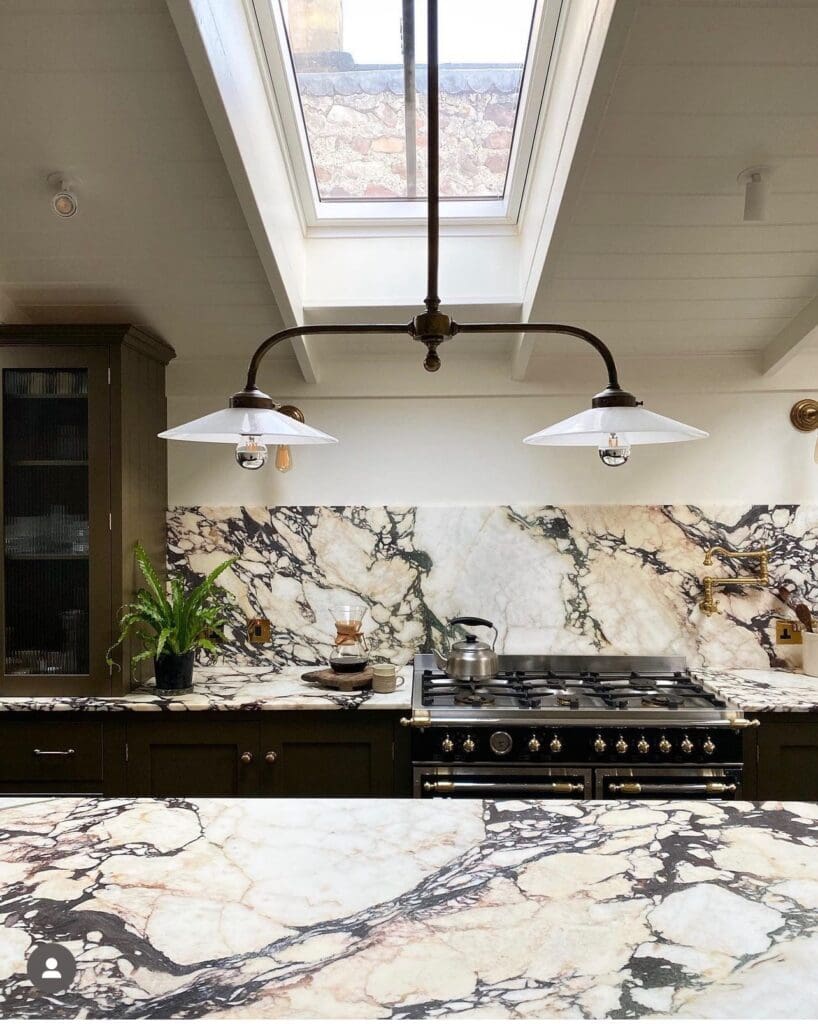 Image Source: The Flint House
Tired of dirty-looking grout? Let's get stoned. This stunning marble is similar to what I will use in our kitchen. You will be seeing a lot of it this year. It's coming in hot.
4. Monochromatic Makeovers
Image Source: JJ & Stefanie Mullen
Monochromatic makeover. It's time to show those monochromatic rooms how to have some fun. Beautiful rich pops of color are coming at you. Nearly every paint brand on the market released their 2023 color of the year as some variation of red or purple. Magentas, plums, and blushes will be everywhere this year, and I am here for it.
5. Antique Mirror Walls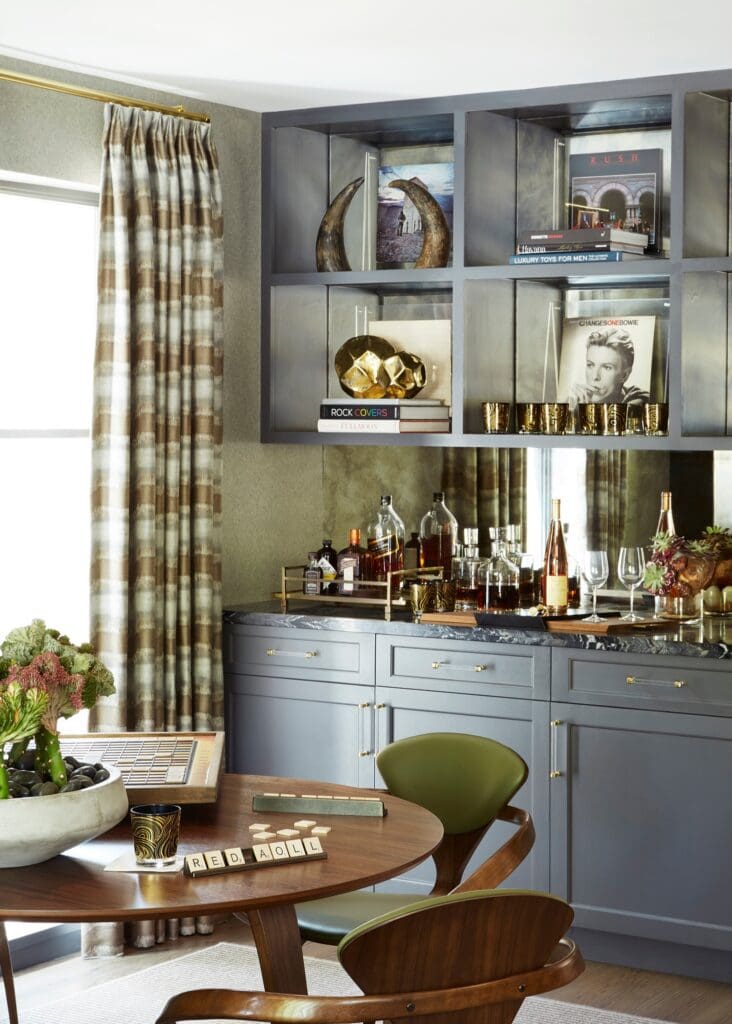 Image Source: Tribe Design Group
Antique mirror walls are picking up steam and will continue becoming more popular in 2023. They are a fabulous way to create a moody space without making the room feel small, as the mirror is reflective and opens the space. I am using them in bars, kitchens, and even living rooms.
6. Prominently Displayed Wine Rooms
Image Source: JJ & Stefanie Mullen
Stunning glass and steel wine rooms or wine closets are prominently on display in main living spaces in every home we are doing right now.