By the time fall rolls around my garden has done me in. I'm exhausted from the war I've had to wage to protect it from critters and disease. From all the pruning, picking, canning and figuring-outing.
By the end of January I am once again longing to be in my garden. I start planning, researching, testing my soil getting all my favorite garden tools dusted off.
By the end of March I am desperate to put on my gardening boots and get outside. Seeds are being planted in my greenhouse and I start the process of prepping my soil.
A garden teaches you so many things. It humbles you. It reminds you perfection is unattainable. It offers you no choice but patience. I put together a list of the 12 Things I Wish I Knew Before Planting My First Garden aka all the things I've learned along the way and am sharing with you so you don't have to learn the hard way like I did.
Are you ready to get in your garden? While you wait, I wanted to share some of my favorite garden tools and supplies with you. Order what you need now, it's almost time to get dirty!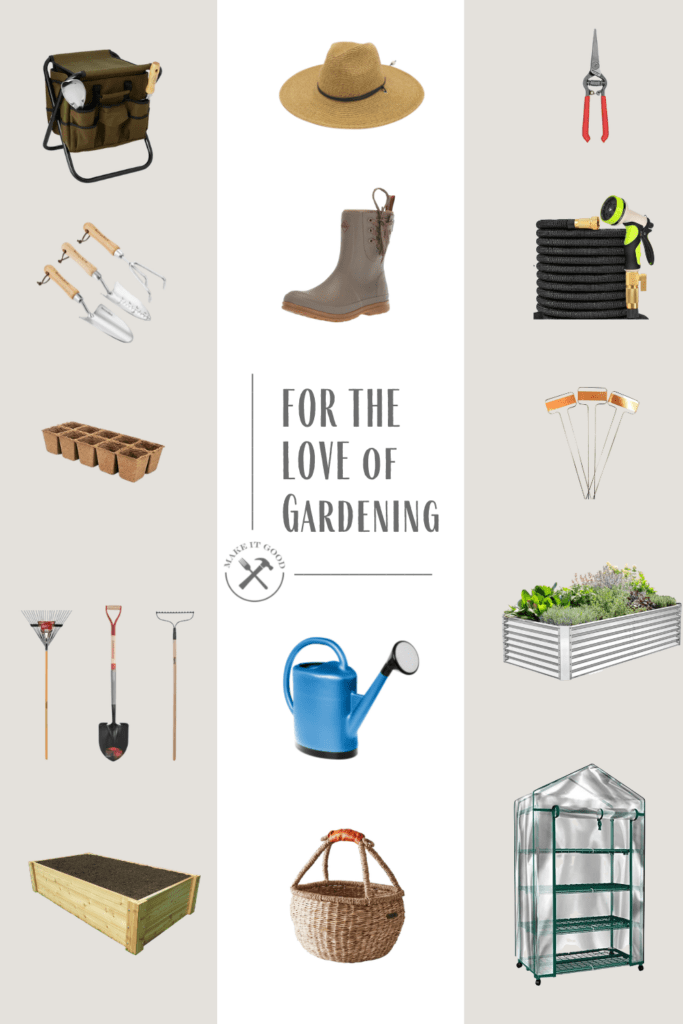 Gardener's Tool Seat, Garden Hat, Red Handled Thinning Shears, Berry & Bird Garden Tool Set of 3,
Muck Boots, Expandable Hose, Biodegradable Seed Tray, Copper Plant Label, Leaf Rake, Shovel,
Steel Bow Rake, French Blue Watering Can, Galvanized Raised Garden Bed, Cedar Raised Garden Bed, Seagrass Collecting Basket, Mini Greenhouse.
Don't share your tomatoes with critters, build yourself a DIY Tomato Cage while you wait for your soil to soften.