The key to this juicy grilled chicken breast recipe is the homemade Italian seasoning marinade and the cook temperature.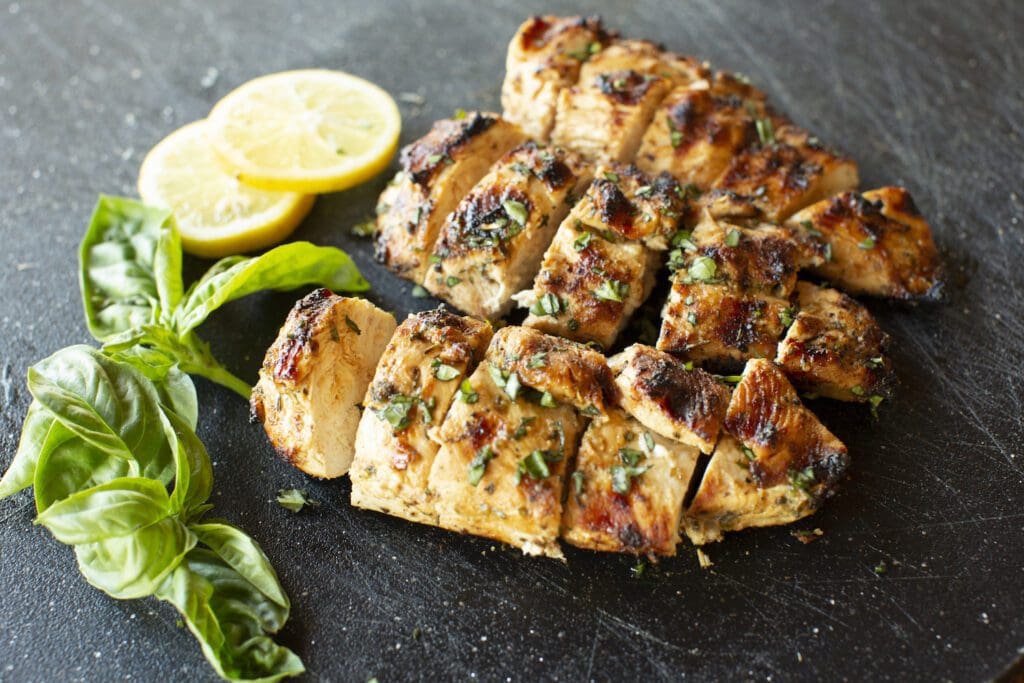 Everyone needs an easy and delicious go-to chicken recipe. This is it. It's the perfect easy weeknight meal. You can serve it with a carb and veggie or over a salad or pasta. There are so many options. It's a cooking staple!
The key to making it memorable for all the right reasons, is the marinade and how long you cook it.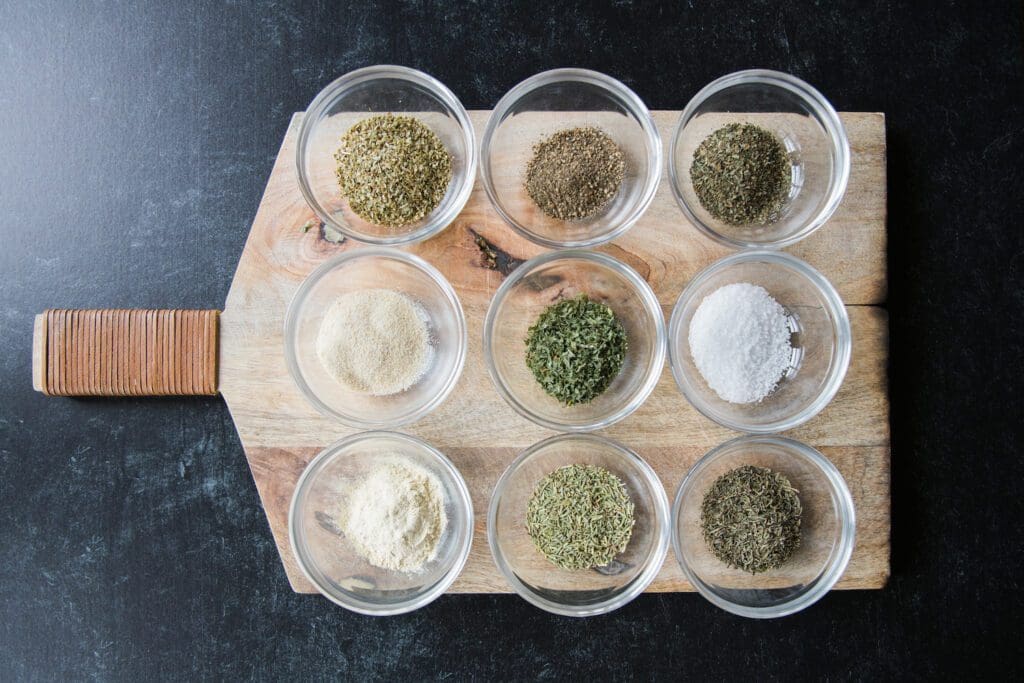 The marinade has spices that flavor the chicken as well as, most importantly vinegar, that breaks it down and removes the toughness chicken can sometimes have.
When grilling chicken the absolute kiss of dry death is over cooking it. The one and only way to prevent that is a meat thermometer. USDA recommends you cook chicken to 165°. I remove mine at 160° and allow the chicken to sit for 5 – 10 minutes before cutting. It will continue to cook after you take it off the grill. Do not cut into it. If you immediately cut it, all the juices will seep out.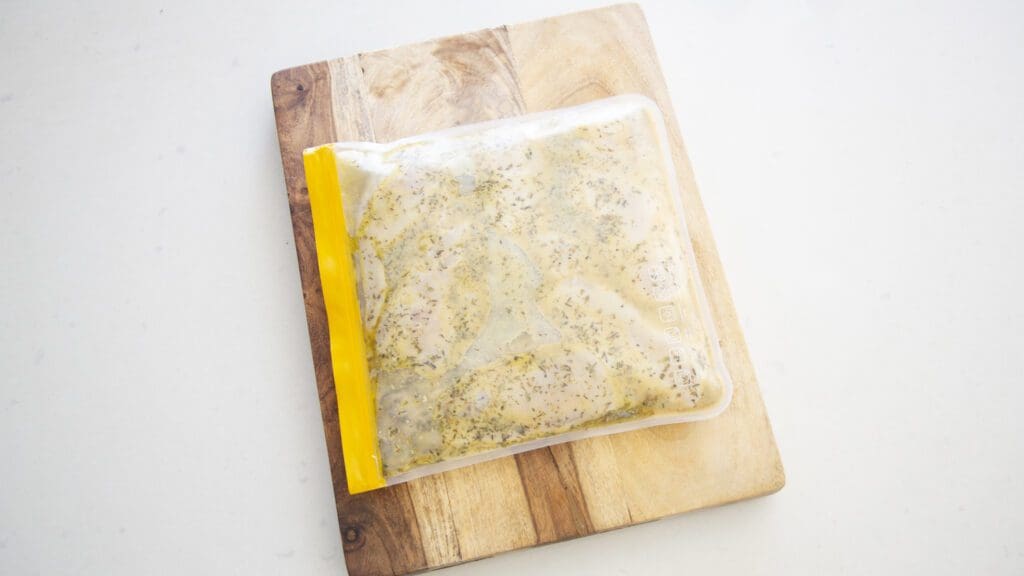 Serve this juicy grilled chicken breast recipe with potato wedges, easy weeknight roasted potatoes or smashed rosemary potatoes. I serve a vegetable at every meal. Some of my favorites with this juicy grilled chicken are green beans, broccoli or grilled asparagus.
You can also serve the chicken over a delicious salad like my Harvest Salad or Caesar Salad and make them a meal. This is one of my most favorite dinners. It's healthy, light and tastes like you are treating yourself.
Shopping List
Click HERE to print out the shopping list!
Pin this Weeknight Chicken Recipe for later!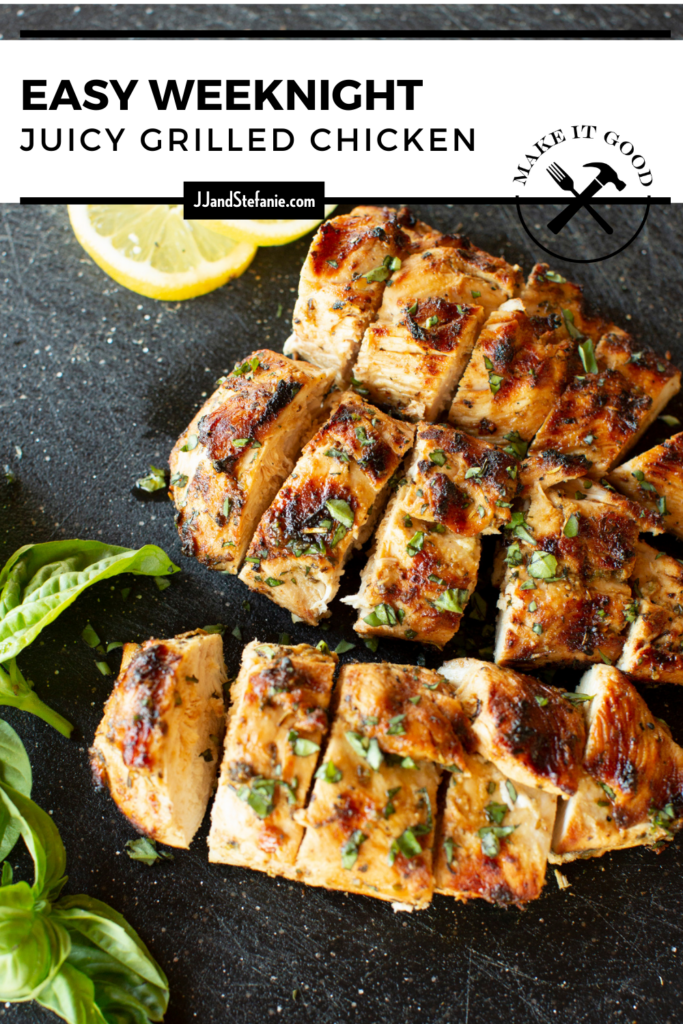 Notes & Tips
Get a meat thermometer. It's the only to keep chicken from overcooking and drying out.
The longer you marinate the chicken, the juicier and more flavorful it will be. When possible, marinate overnight.
Dietary Considerations
Print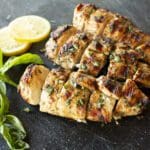 Easy Weeknight Juicy Grilled Chicken
---
Description
The key to this juicy grilled chicken recipe is the homemade Italian seasoning marinade and the cook temperature.
---
4

–

6

chicken breasts

3/4 cup

olive oil

1/4 cup

red wine vinegar

2 tablespoons

Dijon mustard

2 tablespoons

Italian Seasoning
---
Instructions
Combine olive oil, vinegar, Dijon mustard and Italian Seasoning in a bag or air-tight container and mix.

Add chicken to marinade and refrigerate at least 4 hours. (Overnight is the best when time permits.)

Heat grill to medium high heat.

Lightly spray grill grates with oil.

Place chicken on the grill. Cook the first side 4 – 5 minutes, then turn the chicken over.

Continue cooking until a thermometer registers 160°.

Remove and let sit 5 – 10 minutes uncovered. (You can place a piece of foil over the top, but make sure it can breath so it doesn't overcook.)

Enjoy.
---