Small Christmas trees are great for small spaces but they are also a great way to create Christmas vignettes inside and outside of your home for the holidays.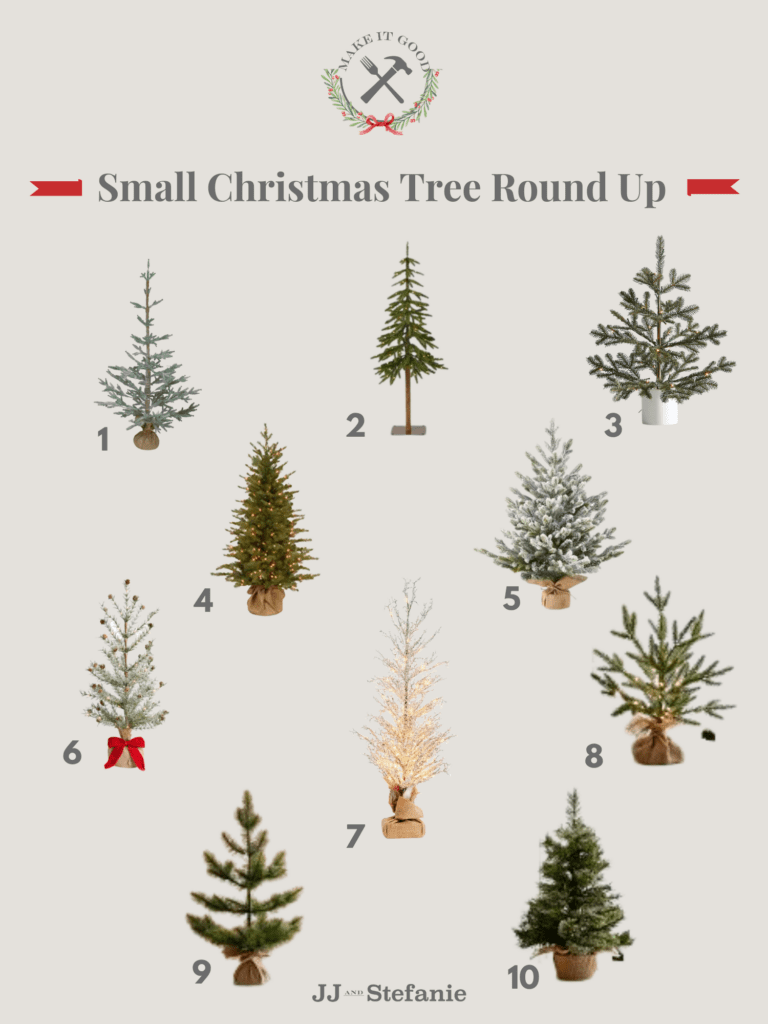 I love to use small Christmas trees to create the perfect Christmas front door decor. I use them inside in corners to create Christmas vignettes.
1. Northlite 4′ Snow Covered Tree $78 ON SALE
I love the openness of this small Christmas tree from Target. It doesn't feel cluttered. Decorate it with small bulbs or leave it just as it is.
2. 4′ Pre-Lit LED Downswept Alpine Balsam Tree $50
I have two very similar to these that I use on each side of my front door. I got mine years ago so I sought out something similar you could use.
3. 2′ Faux Potted Pine Pre-Lit LED Christmas Tree with White Lights $70
I love the small but might feel of this tree. It's got just enough Charlie Brown in it to be nostalgic. I ordered one for my kitchen island decor this year.
4. National Tree Company Pre-Lit $80 ON SALE
I have several of these fuller small trees that I use to decorate around the house. If you like a fuller spruce style tree, these are your mini trees.
5. 2.5′ Unlit Flocked Glittered Balsam Fir Christmas Tree $35
I am a sucker for a good flocked tree and this one hits the spot. At only 2.5′ tall it's a great little tree to use to create small vignette.
6.  Pre-Lit Icy Artificial Tree $70
These are beautiful. I bought two this year for my back patio. The photo doesn't do them justice. They are magical in person. The perfect amount of sparkle, light and woodsy-ness.
7. Light Up Snowy Crystal Trees Starting at $44
Feeling fancy? These light up crystal trees are what you are looking for.
8. Burlap Wrapped Light Up Table Tree $30 ON SALE
Light up a dark space in your home with this adorable 19″ lit tree.
9. Simple Tabletop Tree $39 ON SALE
This until small Christmas tree is the perfect table top tree for the minimalists out there.
10. Full Tabletop Tree $30 ON SALE
Is a full bushy style tree what brings you joy? This is the perfect table top tree for you.